NALAS LGAs solidarity support to flood affected areas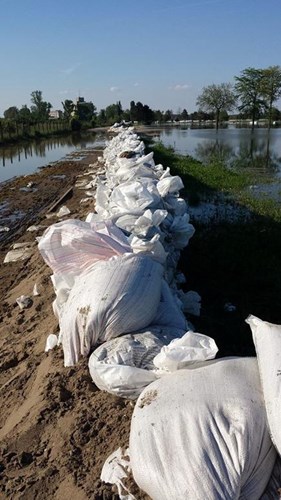 01/12/2014
Dear colleagues and friends,
We express our gratitude to all you have done so far to respond to our appeal for solidarity support within NALAS Network. Help is still needed and the process of recovery will be  long and expensive, so any support matters.  
As you know, Serbia, Bosnia and Herzegovina and Croatia are facing the worst ever floods that already took victims. The situation in many municipalities is dramatic (some of which Serbia: Obrenovac, Svilajnac, Shabac, Paracin, Sremska Mitrovica, Valjevo, Smederevska Palanka, Loznica, Lazarevac; BH: Zenica, Bijeljina, Doboj, Maglaj; Croatia: Gunja, Drenovci (Rajevo Selo, Račinovci, Posavski Podgajci), Vrbanja (Strošinci), Štitar). Villages are cut-off, roads and houses are being destroyed, while citizens are displaced and are facing lack of food,  water, blankets.
We can use the strength of our Network to mobilize an urgent support for the municipalities hit by this disaster and their citizens, by their fellow municipalities throughout South-East Europe.
 
The immediate needs are: food, water, underwear, blankets, baby diapers, hygiene supplies, etc. 
Financial support is also very important, to deal with the floods, but also for the recovery. Our member LGAs have opened special bank accounts for this purpose:

Standing Conference of Towns and Municipalities in the Republic of Serbia
Komercijalna banka ad Beograd
DEV: RS35205007080004025428
Komercijalna banka ad Beograd, Svetog Save 14, 11000 Beograd
SWIFT – BIC:  KOBBRSBG
IBAN: RS35205007080004025428
Contacts: Tanja Cvetkov, Aleksandra Vukmirovic
Association of Cities and Municipalities of the Federation of Bosnia and Herzegovina
Union Bank DD Sarajevo
Address: Dubrovačka br. 6, 71000 Sarajevo
Account number: Humanitarna pomoć za poplavljena područja u BiH/Humanitarian Aid for flooded areas in Bosnia and Herzegovina
IBAN: COD BA391020500000019204
SWIFT (UBKSBA22)
Contacts: Vesna Travljanin, Amir Kupusija
Associations of Cities and Municipalities in the Republic of Croatia
Association of Municipalities
Zagrebačka banka
SWIFT: ZABAHR2X 
IBAN: HR4023600001501495048
Association of Cities
Erste banka
IBAN:HR1924020061100675273
SWIFT: ESBCHR22
Contacts: Mladen Ivanovic, Vesna Fabris (AoM), Nives Kopajtich-Skrlec, Dario Runtic (AoC)
Let's show our solidarity and help our fellow municipalities and their citizens in need. As it is said "Yours is only what you give".