NALAS Fiscal Decentralization Task Force addresses fiscal decentralization challenges in the SEE Region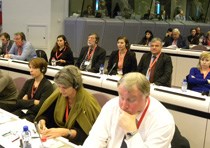 27/06/2012
From 27-28 June 2012, NALAS Fiscal Decentralization Task Force held its meeting in Zagreb, Croatia. The meeting provided an overview of the developments since the last session of the Task Force, held in November 2011 in Bursa, Turkey.
The Task Force members discussed NALAS Report:Fiscal Decentralization Indicators in South East Europe. The report, which provides reliable comparative data on municipal finances and intergovernmental fiscal relations in South-East Europe, attracted high interest among the wider expert community. The Task Force members brainstormed on further dissemination and promotion of the report and its findings within the Associations, how it could get its way to all local authorities in the Region and be used for lobbying and advocacy.
Also, the Task Force discussed the next issue of the Report and its methodological and organizational challenges. Since the NALAS Knowledge Management Assistants will have an important role in data collection and findings dissemination, a group of Knowledge Management Assistants also took part in the meeting. In addition, they had their own parallel meeting with the new NALAS Knowledge and Communication Manager to discuss their future activities.
The Fiscal Decentralization Task Force members also discussed the concept for the upcoming conference "The Future of Fiscal Decentralization in SEE", to be held from 1-2 November 2012 in Budva, Montenegro. The conference would bring together ministries of finance, mayors, policy makers and major economy players from SEE to discuss, strategize and develop a deeper understanding of the challenges and opportunities facing the region in finding the right ways to finance projects and activities of sustainable local development.
The documentary "Urbanized" opened a debate on "Land Financing and Infrastructure Development in SEE", which raised the issue on how cities find adequate ways of financing a proper land development and infrastructure investments. A significant trend was noted in SEE that local governments voluntarily give up parts of their own incomes (like land development fees) in order to be more competitive for foreign investors and therefore contribute to local economic development and boosting employment in the municipality. The leading dilemma was if this trend is hampering the stability of the local budgets on the long run and which tools and mechanisms should be used in protection of the fiscal sustainability of the local governments. The conclusion was that there is no written formula and that only comprehensive and smart long-term planning supported by the elected leaders can provide the balance. Especially important and useful ways for supporting this are the utilization of public-private partnerships and EU funds for development of the local infrastructure.