NALAS develops a cost and financing model in Solid Waste Management in South-East Europe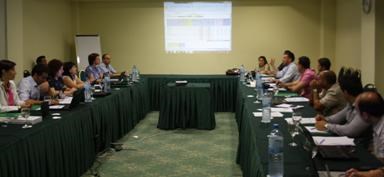 27/07/2012
On 27-28 July 2012 in Skopje, Macedonia, NALAS organized the workshop "Development of a cost and financing model in Solid Waste Management in South-East Europe" (CFM Project) and a meeting of NALAS Task Force on Solid Waste Management. Participants included CFM Project team, international, regional and local experts, NALAS Solid Waste Task Force Members and members of ZELS Environment Network.
The main purpose of the model is to help operators and municipalities calculate true cost of waste management activities, while improving cost-efficiency, improving planning and budgeting, setting tariffs, management and control of public service provider contracts, and building a database for benchmarking and comparison.
The Regional Expert Milena Radosevic (UORH) presented the draft Cost Model in details. Developed in Excel, this model, based on the Solid Waste Information System (SWIS), shows activity and budget breakdown, includes all types of costs (operation, maintenance, investments, financing), includes separate recyclable waste collection, offers a standardized way to calculate Waste Management costs and is applicable in rural and urban areas, in various size cities.
The Local Experts Mr. Miodrag Gluscevic (SCTM), Ms. Danijela Djurovic (UoM), Ms. Irem Silajdzic (SOGFBiH) and Ms. Tatiana Tugui (CALM) presented the major findings on cost structure of solid waste management situation in pilot municipalities from these four associations.
The International Expert Ms. Reka Soos presented the analysis of the foreseen main difficulties in implementation of the cost computation model, such as the complexity of the waste management economics, the need for benchmarks for basic costs, organizing the accounting system to disaggregate costs, hidden costs in administration, revenue collection, etc.
To expand the knowledge base, NALAS invited Mr. Arben Kopliku, a Deputy Programme Manager of Decentralization and Local Development Programme  (DLDP), to present the project "Developing a regional cost modeling on waste management" for Shkodra and Lezha Regions, Albania, financed by the Swiss Agency for Development and Cooperation (SDC). At the end of the presentation to each participant was handed the book "Planning Local Waste Management".
Participants provided their feedback on how to improve the "Cost and financing model in Solid Waste Management in South Eastern Europe", how to find or assess the lacking information on costs, which processes to include, and how to keep the balance between simplicity and comprehansiveness of the model. These inputs will be considered by the experts, who will improve the model and prepare it for testing in the pilot municipalities. After receiving a feedback from the piloting phase, the model will be finalised and available for use throughout South-East Europe to the local government associations and their members, the local governments.