NALAS co-organised the Danube Governance Forum: Improving Governance Together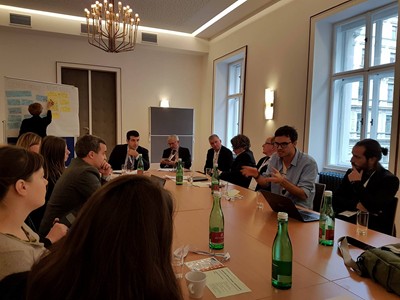 04/12/2017
The Danube Governance Forum: Improving Governance Together in the Western Balkans and the Danube Region took place today, 4 December 2017 in Vienna, in cooperation with NALAS and ReSPA.
The Forum is the final event of the programme Capacity Building of the countries in the Western Balkans and the Republic of Moldova (BACID), funded by the Austrian Development Agency and implemented by the Austrian Association of Cities and Towns and KDZ-Centre for Public Administration Research.
The event gathered stakeholders that have been cooperating within BACID in the past years to discuss the topics identified as priorities in improving governance of the countries in the Region on the way to the European Union, while promoting the cooperation of the public sector – national and local institutions – with civil society, science and the business sector.
"Today's Forum symbolises the nature of the BACID Programme: first, using a multisectorial dialogue in addressing the important issues related to governance, and second, knowledge exchange in a subtle and demand-based manner", said Kelmend Zajazi, NALAS Executive Director, in his opening speech.
Besides ministries, local governments, NGOs and other organisations from the Western Balkans, the event brought together partner public institutions and private organisations from the whole Danube Region, as well as representatives of the EU and international organisations that are supporting European integration and public administration reforms in the Western Balkans and the Republic of Moldova.
Via eight panel sessions, the Forum focused on:
Improving the Capacity of Public Administration within the Danube Governance Hub
Enabling Local Governments to fulfil EU-standards and deliver better services
NALAS representatives took active participation in the panel sessions. Elton Stafa moderated the session on "Better State Governance through Decentralisation", Darko Mrvaljevic spoke in the session "EU funding of municipal services", while Kelmend Zajazi addressed in the session "Activating Local Economy".
In the exhubition part of the Forum, NALAS presented its new strategic plan for the period 2018-2022, as well as part of its recent resources, publications and videos.