Counting down to Plovdiv 2015 Annual Forum of Local Authorities of South-East Europe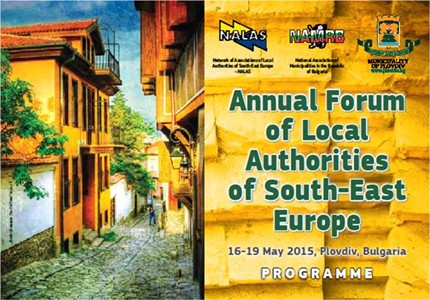 14/05/2015
We're all counting down until the start of the most amazing event for 2015 that NALAS, NAMRB and the City of Plovdiv organize this May! From 16 until 19 May 2015, in Plovdiv, Bulgaria, local governments of South-East Europe will gather at the Annual Forum of Local Authorities of South East Europe. The event will include:
Site-visits to successful projects of the City of Plovdiv
Business fair
Municipal projects market
NALAS General Assembly Meeting
NAMRB General Assembly Meeting
Award Ceremony for the GENiYOUTH Munipal Initiatives for involving women and young people in the activities of the local authorities
Award Ceremony for the European Label of Good Governance
Conference: Local Authorities' Competences and Preparedness for Crisis Prevention and Management
At the event, the President of the Republic of Bulgaria, Rossen Plevneliev, will have his address. Also, speeches will be delivered by Ms. Barbara Toce, Vice-President of the Congress of Local and Regional Authorities of the Council of Europe, Mr. Gazmend Turdiu, Deputy Secretary General of the Regional Cooperation Council, Ms. Ivelina Vasileva, Minister of Environent and Water, Ms. Liliyana Pavlova, Minister of Regional Development and Public Works, Mr. Walter Kling, Secretary General of the International Association of Water, as well as numerous Mayors from South-East Europe.
Plovdiv 2015 Agenda