Climate and Clean Air Coalition: Regional Municipal Solid Waste Workshop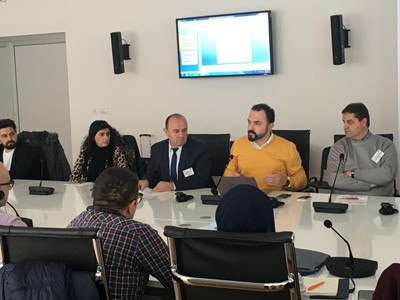 22/03/2018
From 22 to 23 March 2018, NALAS and cities nominated by the Network took part in a Regional Municipal Solid Waste Workshop, organised by the Climate and Clean Air Coalition (CCAC) in Novi Sad, Serbia. Istanbul, Kumanovo, Kamza, Bijelina, Herceg Novi, Novi Sad, were among the cities that used this workshop to start assessing their needs in the solid waste management and developing a plan for solid waste management.
During the first day of the workshop, participants got familiar with the CCAC Municipal Solid Waste Initiative (MSWI) and the successful projects of the Serbian Association SeSWA and other MSWI implementers conducted with cities internationally. The participating cities received technical presentations related to key waste management issues, such as landfilling and organic waste management.
The second day focussed on assisting cities in developing their work plans that will help them prioritize their waste management projects, especially ones that will require substantial financing.  SeSWA will help cities identify resources for needed technical assistance to conduct feasibility analysis for their projects. These resources may include SeSWA's own technical expertise as well as those offered by the CCAC MSWI.
In addition, launching of official network in SEE towns dealing with solid waste management issues took place and stakeholders had the opportunity to meet and network with each other.
Established in 2012, the Climate and Clean Air Coalition (CCAC) is a voluntary partnership of governments, the private sector, civil society and other stakeholders committed to "achieve concrete and substantial action to accelerate efforts to reduce short-lived climate pollutants".
Since November 2016, NALAS Task Force on Solid Waste and Water Management is part of the Climate and Clean Air Coalition.