Workshop on Municipal Finance Self-Assessment Tool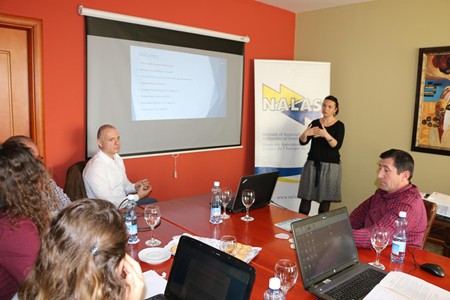 19/11/2015
From 18-20 November 2015, in Skopje, Macedonia, NALAS organised a capacity building workshop for Local Government Associations in South East Europe focused on the implementation of the World Bank's analytical tool Municipal Finance Self Assessment (MFSA).
The objectives of the workshop were to create a pool of specialists that would be deployed by the LGAs in the process of their pilot implementation of MFSA; and capacitate the specialists with the necessary skills for performing MFSA in municipalities.
During the workshop, participants got familiar with the details of the MFSA tool, aimed to assess city's financial health and to identify specific actions to improve mobilization of local resources, public spending, public assets management and maintenance, investment programming and access to external financing, including both borrowing and donor funding.
By using the MFSA, a local government will benefit by the following:
Analysis of its financial condition: a local government implementing MFSA will make reviews of its municipal budgets (revenues and expenditures), assessment of its financial management practices, municipal savings capacity, potential increase of the investment efforts, financial projections for the next five years;

Elaboration of a Municipal Finance Improvement Plan with key actions to be included in the plan, how these actions will be implemented and by whom, what is the timeline for implementation and how much the implementation will cost (if applicable);

Improved presentation of the financial condition and plans of the local government in front of its stakeholders, the potential creditors and donors, etc. ;

Improved strategic planning process as the solid municipal finance analysis and plan, and the knowledge of the potentials for savings and borrowing will provide better ground for developing other municipal development plans; and

Benchmarking with other local governments through a set of simple and comparable key indicators/ratios;
During the workshop, participants worked on cases of municipalities, producing the relevant analysis and Municipal Finance Improvement Plan. They expressed high satisfaction from the training. "The MFSA tool is very useful and can help LGs assess their financial performance and look for additional financing. On the other hand, it is a huge responsibility to translate the budget into strategies that will drive LG's development", said Reisa Duraj, Head of Finance and Treasure Relations Sector of the Shkoder Municipality, Albania.
The workshop was delivered by Marjan Nikolov, World Bank expert in MFSA. All participants received certificates of participation.
After the workshop, it is expected that participants will be engaged by the LGAs as specialists for MFSA for their member municipalities that will undergone this important process. "It is very important that the tool reaches as many municipalities as possible. Here, LGAs have a key role to play", said Arben Qesku, Municipal Finance Expert, member of the Fiscal Decentralization Task Force.
This activity is organised within the World Bank-Austria Urban Partnership Program II.