Workshop on Gender and Gender Responsive Budgeting-E-learning Module for Public Officials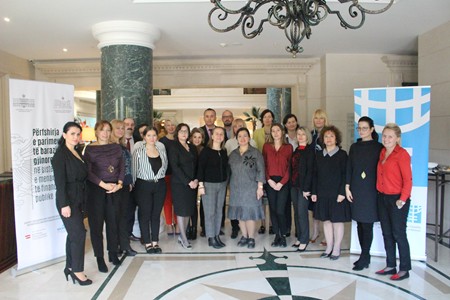 15/11/2018
Within the regional project "Promoting Gender Responsive Policies in South East Europe" (2017-2018)", launched by UN Women Regional Office for Europe and Central Asia, a workshop on Gender Responsive Budgeting E-learning Module for Public Officials was held on November 13-14, 2018, in Tirana, Albania.
The main objective of the event was to reflect on the best practices of implementation of the GRB e-learning module. The event sought to exchange views and foster discussion between partners. On the margins of this event, public officials in charge of the development of the modules from participating countries met and discussed on best practices in GRB implementation.
Specific objectives included:
(a) Presentation of existing e- learning modules in Macedonia, Region/NALAS, BiH and Albania.
(b) Exchange of views and ideas between the participants on lessons learned on civil servants' interest for the e-module and the agreement on the main components.
(c) Recommendations for future activities and steps.
Given that in 2016 e-learning module targeting local public administration was developed by NALAS, Ms. Semra Amet, NALAS' Junior Project Officer presented the online platform for learning, the NALAS E- Academy.
NALAS, in line with its commitments and strategic objectives of creating sustainable, equal and inclusive communities, developed the Introduction to Gender Mainstreaming at Local Level course. To date two rounds of online trainings were implemented and there is an increased demand for translation of the module in other SEE languages. A new, third delivery of the course will be offered as part of the autumn delivery cycle.
During the workshop, participants expressed interest for the possibility to expand and open this course to more partners from the central level as well as the academia in SEE countries.
"NALAS, through its E academy platform aims to create an integrated learning system for SEE local governments, thus by this contributing to increased level of professionalism of local government administration in the SEE. While interactive and modern approach of developing e-learning modules are used, NALAS courses are affordable, innovative and practitioner focused", said Ms. Amet.
Photos by: UN Women Skopje