Training of future trainers from municipalities and public utilities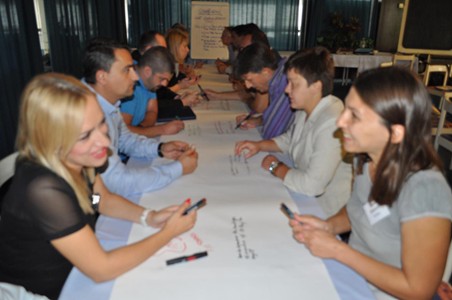 22/09/2015
In organisation of the Association of Municipalities in the Republic of Croatia started the implementation of the first of the series of Training of Trainers (ToT) within the NALAS project "Local Leaders in Southeast Europe: Lead for Change" (LL SEE), that aims at improving of management, leadership and cooperation capacity of municipalities and municipal water and wastewater utilities in SEE.
The series of ToTs consists of one generic ToT module and five specific ToTs modules. The purpose of the first training, the generic ToT, is refreshing and enhancing facilitation skills of the future LL SEE trainers. Two trainings are organised in Donji Seget near Trogir in Croatia, on 14-18 and 21-25 September for 37 participants coming from the local government units and public utilities from the four project countries: Bosnia and Hercegovina, Macedonia, Serbia and Croatia.
The generic ToT module consists of several sessions related to key aspects of training delivery, such as effective facilitation, crucial elements of course creation and design as well as reflective evaluation. Modern didactics-based principles and LL SEE minimum standards are key in this regard building a comprehensive ground for future LL SEE trainers.
Trainers of the course are Alexandra Pres, Human Capacity Development expert acting on behalf of GIZ, and Mirjana Stankovic from the Development Consulting Group from Serbia.
In the next months, following the generic ToT, the participants will attend five specific ToTs on the following topics: Efficient organisation and effective management of communal services; Preparations for infrastructure investment projects; Development of infrastructure investment projects; Implementation of infrastructure investment projects; and Results-based strategic programme planning and management.
The project "Local Leaders in Southeast Europe: Lead for Change" is supported by the Deutsche Gesellschaft für Internationale Zusammenarbeit (GIZ).
TV article from the event