ToT in Efficient organisation and effective management of communal services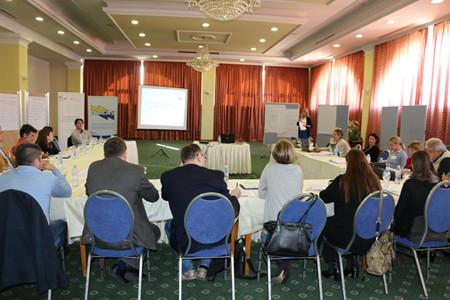 26/10/2015
After the general Training of Trainers (ToT) organised in September 2015, today, in Skopje, Macedonia, we have started the first specific ToT, which focuses at Efficient organisation and effective management of communal services.
Some twenty future trainers coming from Bosnia and Hercegovina, Serbia, Croatia and Macedonia take part in the ToT (26-30 October 2015), mastering Organization of Communal Affairs at the Local Level, Tools for Effective Management, Financial and Operational Performance Improvement, Technical and Operational Management, Tariff Policy, User relations, HR management and much more, lead by a team of trainers from the Hydro Engineering Institute Sarajevo, Bosnia and Herzegovina.
The ToT is organised within the NALAS project "Local Leaders in Southeast Europe: Lead for Change" (LL SEE), that aims at improving management, leadership and cooperation capacity of municipalities and municipal water and wastewater utilities in SEE.
In the upcoming period, four more specific ToTs will be organised, focusing at: Preparations for infrastructure investment projects; Development of infrastructure investment projects; Implementation of infrastructure investment projects; and Results-based strategic programme planning and management.
The project "Local Leaders in Southeast Europe: Lead for Change" is supported by the Deutsche Gesellschaft für Internationale Zusammenarbeit (GIZ).