Third NALAS Forum of Women Mayors in SEE: the role of women in meeting urban challenges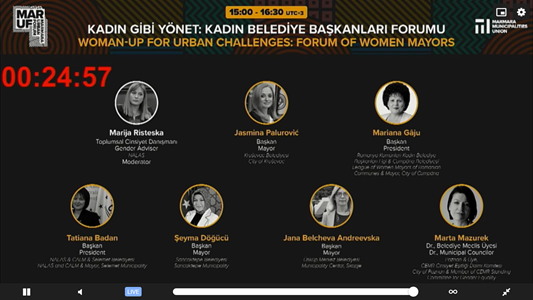 04/10/2021
The third edition of the NALAS Forum of Women Mayors in SEE was organised in partnership between NALAS and Marmara Municipalities Union, in the frame of the Marmara Urban Forum – MARUF 2021. The virtual session under the title of "Woman-up for urban challenges: Forum of Women Mayors" was held on 2 October 2021.
The Forum was opened by the NALAS President, Ms. Tatiana Badan, Mayor of Selemet, Moldova and President of the Congress of Local Authorities of Moldova (CALM).
"Women's voices must be incorporated in policy and planning in order to contribute to the building of cities that allow all urban inhabitants to thrive equally. Based on the gathered perceptions, interests and needs through the participation of urban women in policy making processes analysis can be done and measures developed applying a gender lens to them", said President Badan. "To facilitate this policy development process, we need improved and expanded data collection that disaggregates by sex. This will eventually help urban planners and local authorities truly understand and address gendered experiences of cities. This understanding is central to acknowledging women's contributions to urban settings in the formation of policy responses, and to finding effective ways to involve women as substantive actors within urban decision making".
Good practices on women urban challenges were presented by:
Jasmina Palurović, Mayor of Kruševac, Serbia
Mariana Gâju, Mayor of City of Cumpăna, Romania, President of the League of Women Mayors of Romanian Communes
Şeyma Döğücü, Mayor of Sancaktepe Municipality, Turkey
Jana Belceva – Andreevska Member of the Municipal Council, Municipality Centar, Skopje, North Macedonia, and
Marta Mazurek Deputy Chair of the Human Rights and Equal Treatment Commission of the Association of Polish Cities.
Ms. Jasmina Palurovic, Mayor of Krusevac, Serbia, spoke about the transport challenges urban women of Krusevac face, and shared the initiatives of the city such as freeing sidewalks from parked cars and making them accessible for mothers with strollers as well creation of more green spaces.
"Due to the increase of gender-based violence during the COVID-19 pandemic, the City of Poznan in Poland opened a hostel for women who felt threatened at home, created a website to raise awareness, as well as provided a toolkit for the victims", shared Ms. Marta Mazurek, City Councilor.
Ms. Şeyma Döğücü, Mayor of Sancaktepe, Turkey, talked about the measures and activities that her City has undertaken against global warming and related disasters, by emphasizing the Zero Waste initiative in Turkey.
Ms. Jana Belcheva Andreevska shared the activities that the Municipality of Centar in the City of Skopje, North Macedonia, has done to ensure that the urban planning processes respond to different needs of women and men, boys and girls, including participatory approaches by surveying and talking to the inhabitants.
Education and digitalisation of education is very important, at all levels, starting at kindergartens to ensure women empowerment and ensure gender equality, accentuated Ms. Mariana GÂJU, Mayor of Cumpăna commune, Constanța, Romania.