The second workshop of NALAS Regional Decentralisation Observatory set up the indicators and measuring guidelines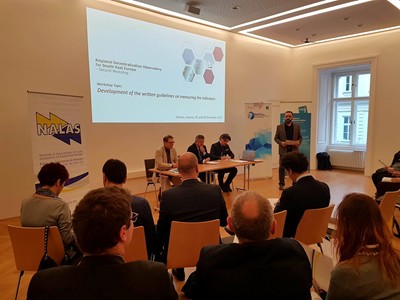 07/12/2017
The second workshop of the NALAS Regional Decentralisation Observatory took place from 5-6 December 2107, in Vienna, Austria, with the support of KDZ-Centre for Public Administration Research and OSCE Missions to the region.
"This event will encompass four parallel workshops on four important topics, related to the core competences of local governments", said in his opening speech Mr. Mico Micic, President of NALAS and Mayor of the City of Bijeljina. "We will be discussing municipal services, as their highest quality is what citizens expect from us. Achieving this is only possible with adequate level of political, administrative, and fiscal decentralization. Also, we will discuss how we measure citizens participation in local government's work, but also the role of local governments in creating national policies related to their work, via their national Associations", said Mayor Micic.
Around 40 experts from NALAS member Local Government Associations, NALAS Task Forces, the European Commission, development agencies, donors, Civil Society Organisations and academia actively participated in the working groups, defining indicators for each of the four dimensions of the Observatory:
Independence of local government
Municipal services
Citizens participation and local government responsiveness
LGAs involvement in policy dialogue
The second workshop on the Regional Decentralization Observatory resulted with defied indicators, sub-indicators and measurement guidelines for each of them.
The first report of the NALAS Regional Decentralisation Observatory is expected to be available in 2018.