The first group of RCDN trainers is ready to support the water sector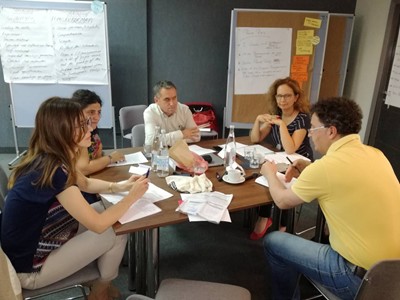 12/07/2018
A group of 11 experienced water and sanitation sector professionals were part of the first Training of Trainers (ToT), organised by the Regional Capacity Development Network (RCDN) for water and sanitation services from 9-13 July 2018 in Belgrade, Serbia.
The trainers, who are part of the RCDN Pool of Trainers, learned how to deliver state-of-the-art trainings, by implementing RCDN quality standards for capacity development, through training and peer exchange.
Participants mastered their trainer and facilitator role, in all phases of the training management cycle and learned the different training methods and techniques that will make them capable to deliver first-class training with tangible impact on their participants and the sector. Participants also explored different learning and teaching styles, collaborative learning and engaging different and challenging participants.
Participants exchanged experiences and good practices on quality delivery referring to training and peer exchange measures and benefited from the experiences of others.
In the future, the Pool of Trainers will be available for national level delivery, based on the needs of the sector, via the respective Local Government Associations (LGAs) and Associations of Public Utility Companies (APUCs).
Two weeks before, the Focal Points of the RCDN partner associations (LGAs and APUCs), the administrative staff in the D-LeaP Hubs and the training units/centers of the LGAs and APUCs participated in a training in "Training management cycle and standards in delivery of trainings", organised in Tirana, Albania. Now, teaming up with the Pool of Trainers, the Associations are ready to offer a wide portfolio of capacity development services for the water and sanitation sector in the six project countries.
***
RCDN aims to increase effectiveness and efficiency of the water utilities in the Western Balkans, contributing to better service provision with larger numbers of population groups getting access to drinking water and sanitation services and meeting the European Union (EU) environmental Acquis Communautaire. To achieve this, RCDN has three key components: 1) Association Development, 2) Capacity Development Offer and Delivery and 3) Partnership and enabling Capacity Development Environment.
RCDN works with LGAs and APUCs in 6 project countries (Albania, Bosnia and Herzegovina, Kosovo, Macedonia, Montenegro and Serbia), while the final beneficiaries are the top and middle managers from municipal and regional utility companies and officers in charge in municipalities. The project is managed by GIZ, on behalf of SECO and BMZ, and is implemented by a Project Implementation Team consisted of IAWD, Aquasan and NALAS.