Unlocking the Future: First Forum of Local Self-Governments on the Green Agenda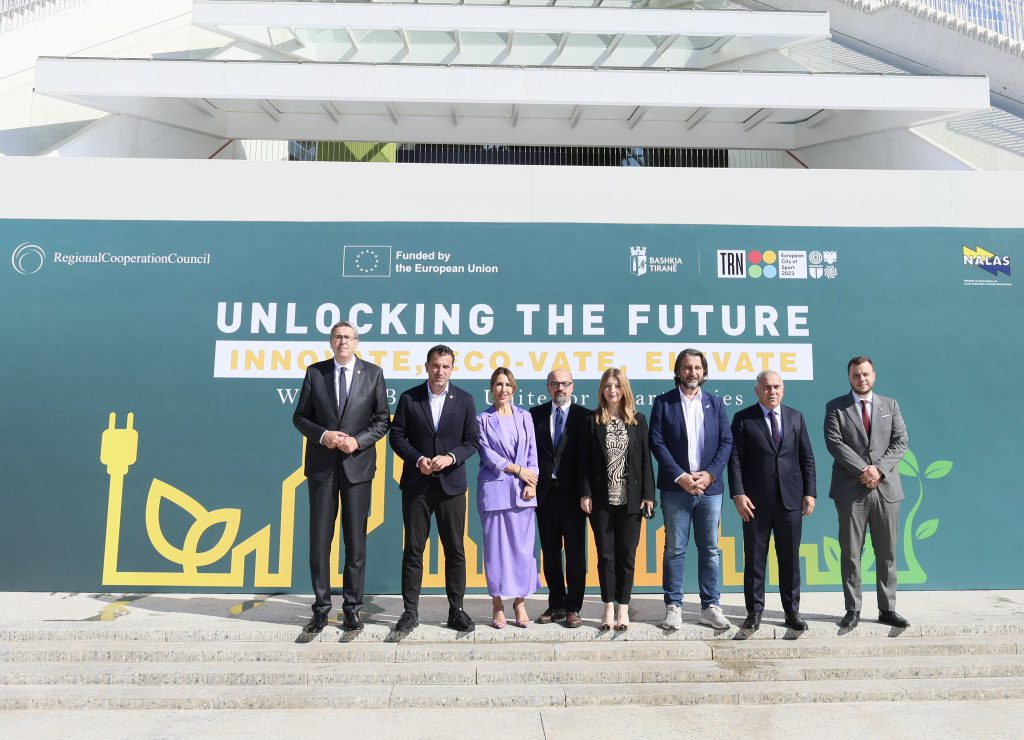 12/10/2023
Under the motto of "Unlocking the Future: Innovate, Eco-vate, Elevate," the inaugural First Forum of Local Self-Governments on the Green Agenda took place on October 12 in Tirana, Albania. This momentous event, organized by the Regional Cooperation Council (RCC), the Network of Associations of Local Authorities of South-East Europe (NALAS), and Tirana Municipality, with the support of the European Union, marks the beginning of a structured regional dialogue between Local Self-Governments from the Western Balkans. The primary aim of this forum is to accelerate the implementation of the Green Agenda for the Western Balkans at the local level.
The opening ceremony included Majlinda Bregu, Secretary-General of the RCC, Mehmet Ergün Turan, President of NALAS and Mayor of Fatih, Istanbul, and Mathieu Mori, Secretary General of the Congress of Local and Regional Authorities of the Council of Europe, Arbjan Mazniku, Minister for Local Government of Albania, Luigi Soreca, EU Ambassador to Albania. Their insightful remarks set the stage for engaging discussions and meaningful deliberations.
NALAS President & Mayor of Fatih, Mehmet Ergün Turan said the following in the opening speech of the forum: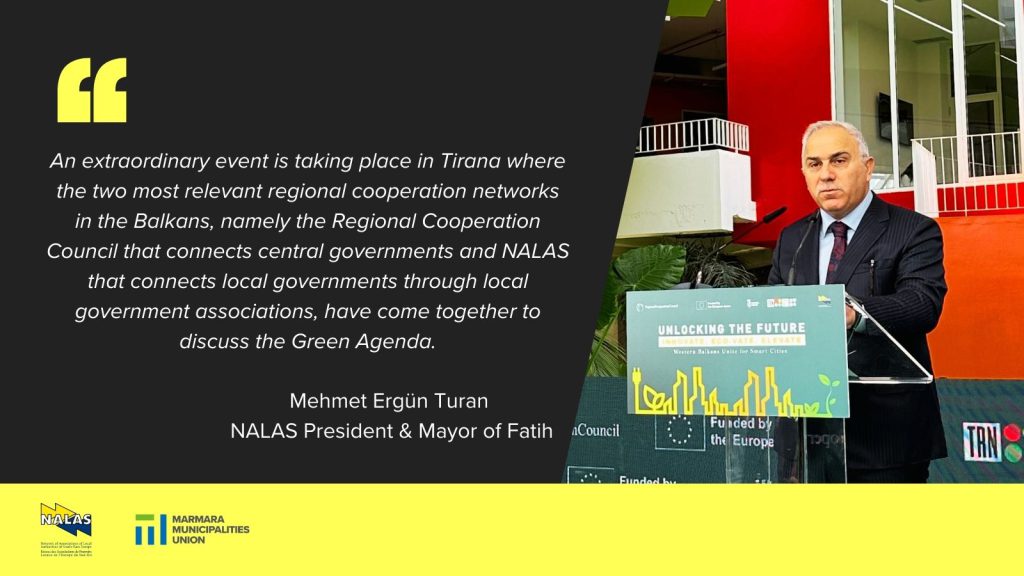 As the Mayor of a historic municipality in Istanbul and the President of NALAS, I firmly believe that local governments play a crucial role in improving the quality of life for citizens. To achieve this, there needs to be coordination between national and regional strategies, central government policies, and the active participation of citizens. Local governments need sufficient resources and support from the central governments to execute their actions effectively. Citizens' involvement is also crucial in ensuring the success of these actions.
I am convinced that NALAS can play a vital role in realizing the development agenda and creating hope for prosperity throughout the South-East Europe. Therefore, it is time to join forces with NALAS to drive coordinated actions and improve the lives of citizens."
The central theme of the forum, "Unlocking the Future: Innovate, Eco-vate, Elevate – Western Balkans Unite for Smart Cities," underscores the need for collaborative efforts in creating sustainable and smart cities. Participants delved into discussions focusing on the green transformation of cities across the Western Balkans, exploring innovative approaches to sustainable development. Esteemed panelists included Erion Veliaj, Mayor of Tirana, Danela Arsovska, Mayor of Skopje, Përparim Rama, Mayor of Pristina, Samir Avdić, Deputy Mayor of Sarajevo, and Luka Rakcevic, Deputy Mayor of Podgorica, all of whom brought their unique perspectives and experiences to the conversation.
The panel discussion served as an important platform for sharing best practices and exploring opportunities for collaboration among the cities of the Western Balkans.
The First Forum of Local Self-Governments on the Green Agenda sets a promising precedent for collective action and cooperation in the region. By uniting local self-governments, this event takes a crucial step towards realizing the goals of the Green Agenda and unlocking a more sustainable and eco-friendly future for the Western Balkans.