South-East European municipalities share their good practices in advancing gender equality at local level with Ukrainian Mayors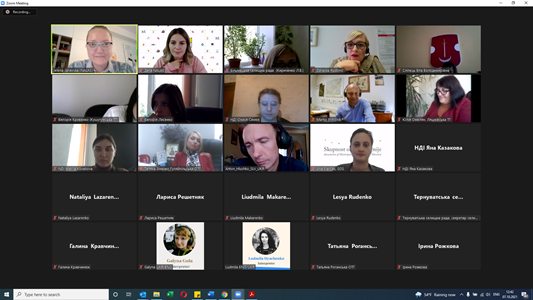 12/10/2021
During the week of 4-8 October 2021, NALAS hosted a virtual study visit for Ukrainian Mayors on Advancing Gender Equality at local level. Some 40 mayors, deputy mayors and municipal councillors from Ukraine had the opportunity to meet their peers from all around South-East Europe and learn from their best practices, related to participation of women in decision-making at local level, gender sensitive service delivery, urban planning that supports equality, women economic empowerment, social services and much more.
The comprehensive program included:
22 speakers, from 7 countries
11 good practices
7 municipalities
6 organisations
Interpretation in 6 languages
In the end, participants developed action plans for measures that they will implement as inspiration from the study visit. A special thanks for this goes to the extraordinary and inspiring presentations by representatives of the following municipalities: Sarata Veche, Moldova; Bar, Montenegro; Roskovec and Elbasan, Albania; Bijeljina, Bosnia and Herzegovina; Velenje, Slovenia; and Centre, Skopje, North Macedonia; as well as NALAS member Local Government Associations.
The study visit was supported by NDI Ukraine and moderated by Ms. Jelena Janevska, NALAS Knowledge and Communications Manager.