Goran Angelov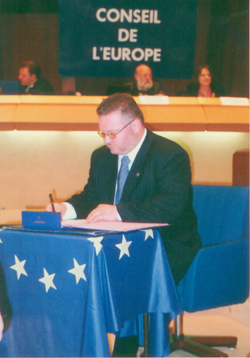 26/11/2022
Mr. Goran Angelov, currently general director of the public enterprise for waste disposal "Drisla", is the first president of NALAS, serving his mandate between 2004 and 2005.
Mr Angelov became president of NALAS during his mandate as a Mayor of the Municipality of Vinica, where he served two 4-year mandates. As a Mayor, Mr Angelov was also elected to be President of the Association of the units of local self government of Republic of Macedonia – ZELS in 2000 and was closely involved in the policy reforms within the decentralization process. In 2001 Mr. Angelov was an appointed member and Chief of the Macedonian delegation at the Congress of Local and Regional Authorities at the Council of Europe and vice president of the Ad Hoc Working Group for South-Eastern Europe.
From 2005 until 2009 Mr. Angelov was a general director of a private consulting company, Urban Rural Consulting. He has 10 years of experience managing the processes of municipal development and process of increasing the awareness of the necessity of the implementation of the process of decentralization in Republic of Macedonia as a step towards increasing the democratic values of local self-government and bringing the local decision – making process closer to the citizens.