Anton Peršak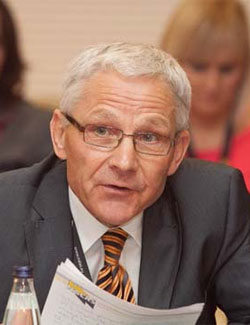 26/11/2022
Mr. Anton Peršak, Mayor of the Municipality of Trzin in Slovenia and member of the Presidency of the Association of Municipalities and Towns of Slovenia served his mandate as NALAS President between 2013 and 2014.
Mr. Peršak graduated comparative literature and literary theory at the Faculty of Arts and theatre and radio directing at the Academy for Theatre, Radio, Film and Television in Slovenia. He started his career in politics with joining the Slovenian Independence Movement in the 80's. Fighting for democracy and independence of Slovenia, he has been one of the co-writers of the famous "writers constitution" in 1988. Mr. Pershak has been a Member of the Parliament from 1990-1996 and is state councillor since 2002. He has also twice been elected as vice-president of the Association of Municipalities and Towns of Slovenia.
One of the best indicators of his competence is the fact that Mr. Peršak remains Mayor of Trzin, one of the most developed municipalities in Slovenia, since 1999. In his attempt to make Trzin the first low-energy municipality in Slovenia, he follows a strategic development plan with emphasis on life-quality, integration of housing estate and economic growth, as well as his excellent sense for the needs of its residents. For this reason municipality of Trzin enforced low-interest rate loans for better façades isolation and window exchanges, improved the energy rates of public buildings, and took care of gas supply and the use of biomass. These efforts culminate in the construction of a kindergarten with the use of solar and geothermal energy.