Roadmap to Sustainable Urban Mobility in South-East European Countries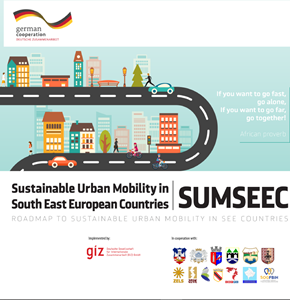 10/04/2019
The Roadmap to Sustainable Urban Mobility in South-East European Countries is a guiding technical document, developed by the Open Regional Fund for South-East Europe – Energy Efficiency (ORF-EE) of the German development organization GIZ, in cooperation with partner cities and municipal associations from South-East Europe (SEE).
It was developed as part of the ORF-EE project "Sustainable Urban Mobility in South-East European Countries – Cities of South-East Europe Together towards Sustainable and Energy Efficient Urban Transport (SUMSEEC)". The goal of the project is to create a sustainable and integrated transport sector that will contribute to human capacity and sustainable economic development in the region.
The idea behind the Roadmap is to give partners in SEE a solid platform for moving faster towards a sustainable urban mobility (SUM) future, dedicated to people and their health, wellbeing and better quality of life. The document, among others, addresses relevant sector policy frameworks, presents best practice examples, financing options and opportunities for the region's countries. It also integrates gender mainstreaming in SUM, while providing a clear understanding of the local and regional context of energy efficiency and environmental protection in the transport sector, including of the importance of a holistic approach in the field of urban mobility planning. It outlines common activities the region's cities should implement in proactively supporting the development of SUM in SEE.
Download the handbook at:
EN SUMSEEC Roadmap
MK SUMSEEC Roadmap
MNE SUMSEEC Roadmap
BHS SUMSEEC Roadmap
SRB SUMSEEC Roadmap
ALB SUMSEEC Roadmap