Regional Decentralisation Observatory: a vision to materialise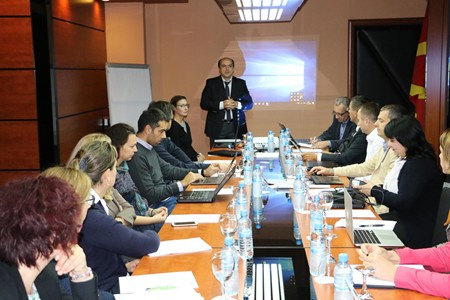 12/10/2016
Is the South-East Europe Regional Decentralisation Observatory needed? What functions should it perform? What areas should it cover? What kind of data to collect? How to use the data collected? These are some of the questions in focus as part of NALAS efforts in designing the Concept and Methodology for establishment of a Regional Decentralisation Observatory.
At the first workshop, organised in Skopje on 12 and 13 October 2016 representatives of local governments, Local Government Associations and national institutions met to discuss these issues and elaborate the basic idea for the observatory.
"One of the drivers of positive change at regional level is peer pressure. The decentralisation observatory should not only collect data, but also design strategies how to use that data to advance the process of decentralisation", said Radu Cotici from the Regional Cooperation Council.
The international expert and host of NALAS Fiscal Decentralisation Task Force Emil Savov presented the results of the desk research and assessment of the current practices in regional monitoring of the decentralisation processes and delivery of public services in SEE. "Among the practices available in the region, NALAS Fiscal Decentralisation Indicators Report is one of the most comprehensive and influential ones", said Mr. Savov.
Participants delivered presentations on the national state of decentralisation, as well as the needs identified, some of which could be addressed by the Regional Decentralisation Observatory.
In a vivid discussion, participants explored the functions that the Observatory should perform, including data collection, analysis, benchmarking, policy making, capacity development, etc. Also, they brainstormed on the potential modalities of organisation and functioning of the Regional Decentralisation Observatory.
This activity is financed by the Regional Cooperation Council and implemented by NALAS, a Regional Dimension Coordinator for SEE 2020 Strategy, Pillar Governance for Growth.