NALAS Vice President addresses at the first Danube Water Forum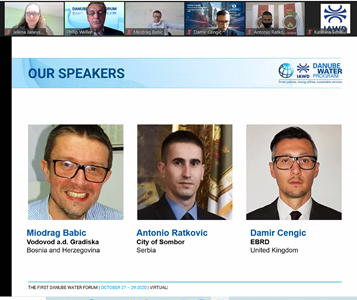 29/10/2020
Mr. Antonio Ratkovic, Mayor of the City of Sombor in Serbia, President of the Standing Conference of Towns and Municipalities and NALAS Vice President had a key address at the session on Data Transparency: the value of performance indicators for municipal government and the general public during the first Danube Water Forum, organised by IAWD and the World Bank from 27-29 October 2020.
Mr. Ratkovic presented the development and key challenges of water and sanitation services in the City of Sombor, with focus on the data collection, analysis and use from the viewpoint of a local government leader. Mr. Ratkovic explained how the data collected is used for decision making, investment planning, access to finance and communicating with the citizens. "Close communication and collaboration between the leadership of the utility and the municipality is essential", said Mr. Ratkovic. "We have weekly meetings where we discuss all open issues. Communicating with the public is also very important and we are using the benefits of digitalization to bring our services closer to citizens".
The session also included inputs by Mr. Miodrag Babic, who presented the case of Banja Luka, Bosnia and Herzegovina, which has been active in collecting performance indicator data from the utility. The utility is currently investigating the possibility of additional IFI lending to support the construction of a wastewater treatment plant to improve its services. Mr. Damir Cengic from EBRD presented their Green Cities Program which is funding investments in municipalities, including water, based on a commitment to tracking and organising improvement through a systematic procedure.
The session was co-moderated by Ms. Jelena Janevska from NALAS and Mr. Philip Weller from IAWD.
The first Danube Water Forum was themed "The Importance of Water Sector Data in the Digital Age" and covered issues related to the availability of sound water sector data as an indispensable basis for providing smart policies, strong utilities and sustainable services in the Danube region. For more information about the Forum and its results, please check: https://www.iawd.at/eng/event/593/details/w/0/first-danube-water-forum/.