NALAS e-Academy: Strengthening local level to contribute to a more equal and better world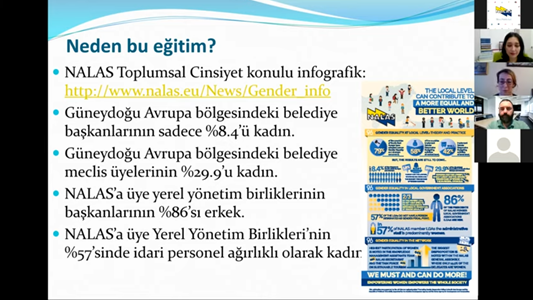 05/11/2020
Over 100 participants enrolled to NALAS e-learning courses as part of the NALAS e-Academy autumn delivery session.
Mayors, members of municipal councils, local government managers and employees have a great opportunity to advance their skills in gender equality and gender mainstreaming at local level.
The course in Introduction to Gender Mainstreaming at Local Level is now being delivered in English, Macedonian, Albanian and Turkish language, while the delivery in Serbian language will start on 18 November 2020 and you still have the chance to enrol.
The course is being implemented in a period of five weeks. It started with an introductory webinar that explained how the course will work, introduced the course team and provided an orientation to the topic. During the duration of the course, participants are learning using modern, interactive, online learning tools, like: case studies, readings, videos, quizzes, assignments, discussion forums, etc. The learning process is facilitated by a course moderator.
Participation is free of charge for NALAS member LGAs and their members and participants receive certificates after successfully completing the course.
The develoment of the course and the translation and delivery in local languages have been supported by UN Women.
If you are interested to take part in the courses, please express your interest by contacting the national Local Government Association (NALAS member) in your respective country (http://www.nalas.eu/Members).
For more information, please contact NALAS Knowledge and Communications Manager, Jelena Janevska, at janevska@nalas.eu.