NALAS Digitalization Working Group has been established!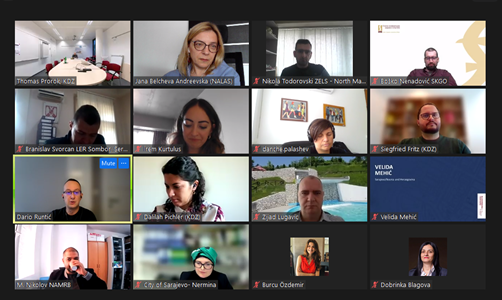 10/10/2022
On 10th of October 2022, the NALAS Digitalization Working Group was established and held its constituent first meeting. NALAS in cooperation with KDZ is going to boost and support the Digitalization of Cities in the next years and will bring together those responsible for digitalization in the local government associations and cities.
The initial step will be to analyse digital challenges and elaborate on potentials for SEE local governments to support the digitalization of local public services and in developing "smart cities".
Due to Covid19 pandemic the need for digitalization of local governments and public services has been dramatically increased. The NALAS study "Impact of Covid19 in SEE Local Governments" from summer 2020 gave first insights of the need for the further development towards smart digitalization. To guarantee that the differentiated needs and requirements of the member countries concerning local smart digitalization are properly recognized, each LGA (NALAS member) has nominated a local digitalization officer. They will take part in the capacity development activities and at the same time contribute with local and national expertise concerning smart local digitalization.
Thanks to the support of BACID I and II, NALAS was able to expand its impact in the structure of multi-level governance in the Region and vis-à-vis national governments. The Fiscal Decentralization Reports, the Regional Decentralization Observatory, the Budget Transparency Platform (Nalas Observatory) are main products of the BACID II support which need to be quality assured and safeguarded through BACID III.
The well-established competence of AACT and Austrian cities in this area will hereby play a key role. Via mentoring through AACT and KDZ the local officers will step by step increase the capacity of NALAS.
The Working Group of Digitalization will:
Analyze digital challenges and elaborate on potentials for SEE local governments to support the digitalization of local public services and in developing "smart cities"
Share Experiences on the smart, public e-services at local level
Discuss digital challenges and examine possible solutions for SEE local government to support the digitalization of local public services
Survey of the "Current level of digitalization of local government services in SEE" will be carried out
The opportunities of EU programs for supporting digitalisation in South-East Europe will be evaluated.
Capacity development activities
Support LG in use of digitalization for improved and informed decision making process
Applying digital tools and applications to promote democracy, transparency, anti-corruption and good governance by citizens engagement and participatory democracy
Collection of best practices on implementation of the Digital tools and Smart-city solutions by Local Governments in Capital Cities and in Austrian Based on the collected best practices a Capacity Development measures (workshops and study visits) will be developed in the frame of the BACID III project.
Horizontal cooperation between the LGAs in Capital Cities and smaller cities and communities for ensuring enabling environment for good governance over-all local level leaving no one behind and ensuring bridge for preventing digital divide.
Vertical advocacy initiatives of the LGAs, towards the central government institutions
Strategically plan to intensify acceptance of smart digitalization
Support NALAS' efforts for smart communal digitalization, smart social services, smart green and digital transition, smart resilience – cross cutting