NALAS delegates vote online for the Fifteenth (XV) General Assembly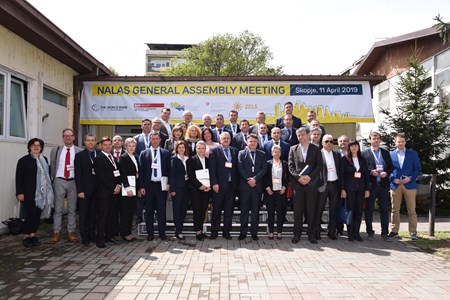 04/05/2020
Due to the continuous limitations on holding large in-person meetings and the global preventive lock down measures as a result of the evolution of COVID 19 pandemic, the Fifteenth (XV) NALAS General Assembly Meeting was organised as an online Survey from 27 to 30 April 2020. Twenty-seven (27) out of total thirty-one (31) delegates of NALAS General Assembly casted their votes.
During the XV General Assembly the following decisions were unanimously made:
Mr. Emanuil Manolov, Mayor of Pavlikeni Municipality representing NAMRB, Bulgaria is the new NALAS President. Along with the new President, NALAS inaugurated the three Vice-Presidents: Ms. Dusanka Golubovic, Mayor of Sombor, SCTM, Serbia became the First Vice President of NALAS, Mr. Lokman Cagirci, Mayor of Bahcilar, MMU, Turkey became the Second Vice President of NALAS, whereas Mr. Veselin Grbovic, Mayor of Niksic, UoM, Montengero became the Third Vice President of NALAS. The above decisions are in line with the rotation presidency system which NALAS introduced in 2011.
By common consent of the General Assembly (GA), the Association of Local Autonomy of Albania (ALAA) got the status of NALAS Associate Member effective 1 May 2020. The GA also approved the CLO proposal to revise the status of the Association of Albanian Municipalities (AAM) and changed the current full membership into associated membership effective as of 1 January 2021.
The 2019 Annual Activity and Financial Reports were approved including the Grant Thornton Audit Report 2019.
GA delegates approved the NALAS Work Plan and Budget for 2020.
Photo: XIV NALAS General Assembly in April 2019, Skopje