NALAS Decentralisation Observatory-a vision to follow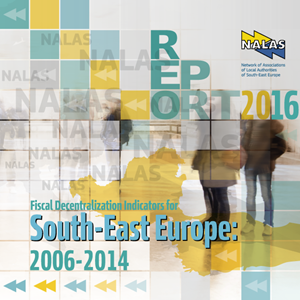 26/07/2016
In the past five years, NALAS' Fiscal Decentralisation Indicators Report has became one of the Network's recognized products, with both regional and national impact. This Report is an ongoing effort to provide policy-makers and analysts with reliable comparative data on municipal finances and intergovernmental fiscal relations in South-East Europe. As decentralisation is one of the key issues of concern of NALAS' members and SEE local governments, we are ready to go step forward, in establishing NALAS Decentralisation Observatory.
With the project "Towards SEE Decentralisation Observatory", financed by "Support to the implementation of the SEE 2020 Strategy" programme of the Regional Cooperation Council, NALAS aims towards improvement of the application of the Subsidiarity principle in delivery of public services in SEE as per the standards of the European Charter of Local Self Government. The project will put in place conditions for decision-making towards establishment of a "SEE Decentralisation Observatory" and therefore strengthen NALAS as a regional dimension coordinator of the Pillar "Governance for Growth" of the SEE2020 Strategy. The action will result into a concept and methodology for establishment of the "SEE Decentralisation Observatory" and raised awareness for the need of such activity in the region.
The activities to be implemented involve: Desk research on the current practices in regional monitoring of the decentralisation process in SEE; Field research in all beneficiary economies on the national monitoring systems related to the decentralisation process; Regional workshop for development of methodology for the set-up of the Decentralisation Observatory based on the findings of  the research; Preparation of a study/report with recommendations for future steps towards  setting up of the "SEE Decentralisation Observatory"; and Dissemination of the findings and recommendations of the study.
Until 8 August 2016, NALAS has an open call for international, regional, and national experts. For more info: http://www.nalas.eu/Announcements/Call_DO