NALAS contributes to Mayors and City Leaders Dialogue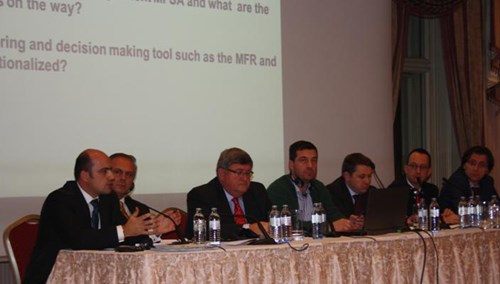 23/06/2013
From 23-25 January 2013, in Vienna, NALAS delegation took part in the Mayors and City Leaders Dialogue "Towards Greater Transparency and Accountability", organized as part of the WB-Austria Urban Partnership Program.
The conference focused on leadership challenges in urban management in SEE, looking through the lens of the role of city leaders in urban governance. The Mayors and City Leaders Dialogue brought together over 100 senior officials from cities in SEE to reflect on the progress in reforms of municipal finance and urban planning, with a particular focus on practices of good governance and the key role of city leaders.  Conference topics included: open government, urban planning and municipal finance; transparency tools; combining urban development and investment in a city strategy-the role of a city leader; improving local government finances, the experience of the Municipal Finance Review and Municipal Finances Self-Assessment, municipal finance and urban investment, city transformation through strategic leadership; building the livable city of tomorrow; guiding urban development: reconciling public and private interests.
NALAS President, Dr. Ozgen Keskin, delivered a presentation on Urban Transformation of Yildirim Municipality in Bursa, Turkey, while Mr. Kelmend Zajazi, NALAS Executive Director, took part in the roundtable discussion on Municipal Finance and Urban Investment. Other speakers included: mayors from the SEE region, such as Mr. Vojko Obersnel, the Mayor of the City of Rijeka and the President of the Croatian Association of Cities, who host NEXPO 2013, Mayors of Budva, Novo Sarajevo, Crikvenica, Tuzla, Pristina, Lezha, and many more, but also former Mayors and Deputy Mayors, representatives of Local Government Associations and civil society. Participants also had a chance to learn from experiences beyond the SEE, some of the most impressive coming from Vienna, Barcelona, Poznan and Turin.   
The Urban Partnership Program aims to assist and support cities and local governments in SEE in a process of modernization and reform, in order to promote local development for inclusive and sustainable growth, and enhanced urban governance. The Program includes Albania, Bosnia and Herzegovina, Croatia, Kosovo, Macedonia, Montenegro, and Serbia. Based on demand, the Program offers a series of City to City Dialogues on Municipal Finance, Urban Planning and Land Management, and Municipal Service Delivery, as well as in-depth leadership training and urban governance capacity building activities.
As many NALAS members arrived to Vienna to take part in Mayors and City Leaders Dialogue, NALAS Committee of Liaison Officers Meeting was organized on 23 January. NALAS Liaison Officers discussed and made important decisions that successfully rounded-up 2012 and opened new chapters in 2013. The Committee approved the 2012 activity and financial report, as well as 2013 work plan and budget, determined the dates and topics for the next General Assembly Meeting and brought program and financial decisions about NEXPO 2013 International Municipal Fair. Also, the Committee of Liaison Officers discussed NALAS cooperation with other stakeholders and membership in important SEE initiatives.  
"In 2013, NALAS starts the implementation of its third strategic plan, for the period 2013 – 2017, which will contribute to further strengthening and expansion of the services of NALAS Knowledge Centre as the main knowledge platform in South-East Europe, increasing NALAS influence in the creation of European policies on local government and ensuring NALAS financial sustainability. We are all proud to be part of NALAS, a network that makes a difference in the work of the local governments in SEE", said Dr. Ozgen Keskin, NALAS President.