NALAS and RCC met to discuss the Strategy for Growth of South East Europe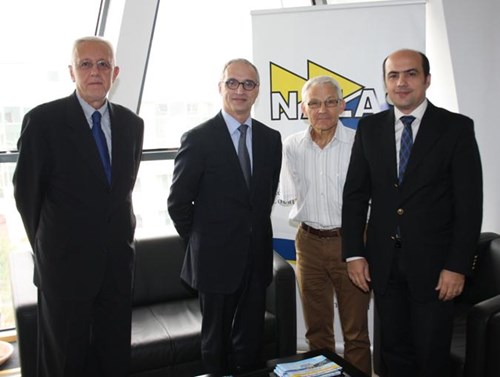 17/09/2013
The collaboration between NALAS and the Regional Cooperation Council (RCC) in developing and implementing the South East Europe 2020 Strategy was the topic of today's meeting, hosted by the NALAS President, Mr. Anton Persak, with the Secretary-General of RCC, Mr. Goran Svilanovic, in the NALAS Secretariat in Skopje.
NALAS President stressed that "The SEE 2020 Strategy is a very important document that is paving the road to sustainable growth of our region. It is of crucial importance that decentralisation and the principle of subsidiarity are given a significant role in the SEE 2020 as both democracy and growth are not feasible without the local level and initiatives".
Mr. Svilanovic confirmed his understanding of the importance of the local dimension and as well recognized the role of NALAS as a knowledgeable horizontal coordinator of the local governments of SEE. As he stated: "The special knowledge of the local governments is extremely worthy. RCC is acknowledging this value and thanks NALAS for coordinating the pillar dimension for Effective Public Services".
Mr. Svilanovic updated President Pershak that the Strategy is currently under a process of national consultations and amendments and will be adopted by the governments of South East Europe in November 2013. RCC will act as a coordinator of the implementation of this strategy in the period 2014-2020 and will channel around 70% of its activities and resources.
Both leaders concluded the meeting with the statement that NALAS and RCC are natural allies in the pursuit of democracy and growth of the South East Europe and in that light will continue the future cooperation.
South East Europe 2020 Strategy is prepared by the RCC and it lays out the vision of a new regional development pathway for the region with the main goal to boost the prosperity, growth and job creation of the region, aligning it with the European perspective of the countries. NALAS has been engaged in coordinating the part of the strategy focusing on Effective Public Services.