Municipal borrowing, landfill management in the spotlight in Bursa, Turkey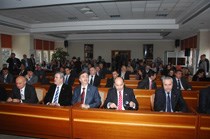 30/11/2011
Last week the Turkish city of Bursa was the home of over one hundred local government professionals, civil servants and experts from South-Eastern Europe who came to the city to work together on some of the most difficult municipal tasks – municipal finances and solid waste management.
"Local Borrowing and Municipal Landfill Management – Practice, Possible Synergies and Solutions" was the highlight event, where synergies were built between experts in municipal finances and solid waste management. This was also a closing conference of the two NALAS projects – "Local Borrowing" and "Development of a Manual for Efficient Sanitary Landfill Management". The discussions showed that the main obstacles for implementation of good waste collection services at the local level are the finances, where the local government borrowing, if used wisely, is certainly one good tool for overcoming these obstacles and supporting municipal investments.
The group was welcomed by the mayor of Yildirim municipality and NALAS Vice-president Mr. Ozgen Keskin. He and his team presented many successfully municipal projects like: Kaplikaya attraction center, Children's education and science center, the Peace palace, Yildirim Municipality Patients relatives facility, etc.
AKM emphasized the relevance of issues raised in the landfill management report and the potential usage of findings and recommendations from relevant institutions. The landfill management project analyzed the current status of waste disposal in SEE, and based on the findings developed recommendations for future improvements. Data reveal that national plans and strategies in the project region are based on EU norms and targets but, it is very likely that more realistic plans, prepared in cooperation with the municipalities and based on the needs and possibilities, would speed up the overall implementation process. Findings also reveal that political support is crucial to successful landfill management. Successful case studies were the ones that received exceptional high support and commitment from local policy makers. The discussions raised a number of concerns related to sustainability of waste management in the region, but also ideas and suggestions on how to best address them.
In a separate event, the directors of the member associations of local authorities forming the statutory body recognized as "NALAS Committee of Liaison Officers" gathered in the 17th to discuss important issues like the rotating presidency, hosting of NEXPO 2013 and the preparations for the General Assembly in 2012.
The experts of the Task Force on Fiscal Decentralisation also held their technical meeting focused mainly on the Benchmarking of Intergovernmental Finances in SEE. The fruits of their labour on this topic will be published during the first months of 2012.
Bursa, once a capital of the Ottoman State and also home of the famous Turkish dishes contributed just as much with great inspiration and hospitality. NALAS thanks the Mayor of Bursa, Mr Recep Altepe, the NALAS Vice-President, Mr Ozgen Keskin and the Union of Municipalities of Marmara for the hospitality and great work in Bursa.