MMU Dispatched Two Experts to Albania for Post-Crisis Management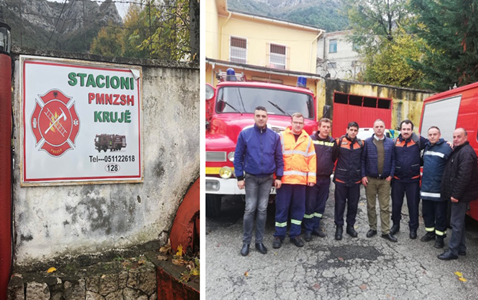 02/01/2020
Upon the call from NALAS, Marmara Municipality Union (MMU) dispatched two experts from Istanbul Metropolitan Municipality Fire Department to Albania to support Albanian Municipalities in managing the crisis situation that emerged after a series of earthquakes hit the country in November 2019.
Experts who worked in the field on 9-13 December 2020 initially visited the city of Kruje where they met with a delegation to discuss the current situation and to present their own recommendations for coping with the crisis. Besides, experts paid a visit to Kruje Fire Department and joined in the inspection of around 30 buildings. Experts also moved to the city of Durres where they held a meeting with the representatives from European Union and United Nations, as well as coordinators who had been working in the relevant departments in Durres Municipality. They shared their experiences and knowledge with those in the meeting.
The group also examined the equipment and identified needs in the firehouse in Durres. On the last day of their visit to Albania, experts moved to Tirana where they met with the representatives from Tirana Fire Department. In the meeting, both sides agreed on an education program on "search and rescue" for the those working in the Tirana Fire Department that would be delivered by the officials from Istanbul Fire Department.