Local Governments in South East Europe claim greater role in the EU accession process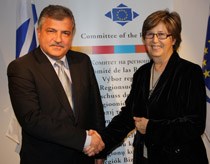 10/12/2010
10 December 2010                                                                           
CoR President Mercedes Bresso met with the Network of Associations of Local Authorities of South East Europe (NALAS[1]) President Vladimir Moskov to reinforce the role of local authorities in the EU accession process. They called for the European Commission to recognize local governments as key actors in programming and utilization of the EU pre-accession funds (IPA), especially on the eve of the next IPA programming cycle for the period 2013 to 2018 and beyond.
The EC has already started a consultation process to improve IPA, being the main pre accession financing instrument. This is viewed by NALAS as an opportunity to put in practice the principle of multi-level governance where all levels of government will share responsibilities to maximize and speed up the reforms in this part of Europe.
President Bresso welcomed the extension of the Covenant of Mayors to the Western Balkans which was earlier requested through a common declaration adopted by all Presidents of fourteen (14) NALAS member associations, endorsed by the Council of European Municipalities and Regions (CEMR[2]), Energy Cities[3] and the European Foundation for the Sustainable Development of the Regions (FEDRE[4]), with the support of the Congress of Local and Regional Authorities of the Council of Europe (CLRA). The Covenant of Mayors is considered as one of the most powerful bottom-up initiatives undertaken by local and regional authorities, mobilizing more than 2000 local authorities from 42 countries. Through this initiative, local governments from SEE are also eager to go beyond the energy and climate objectives of the EU, however, related technical assistance and appropriate financial mechanisms are essential to meet expectations.
Presidents Bresso and Moskov also recognized the positive role of the CoR Joint Consultative Committees and Working Groups, and expressed strong commitment to further explore other forms of cooperation between the CoR and NALAS in order to strengthen the awareness and involvement of local governments in preparations for accession to EU. Furthermore the decentralization experience in SEE was viewed also as a valuable resource for extension of the European eastern partnership.
NALAS has been established in the frame of the Stability Pact and the support of the Council of Europe. Its mission is to actively encourage the decentralization process in South East Europe through strengthening and connecting Local Government Associations and thereby contribute to democracy and stability in the region, and subsequently to faster and successful EU integration.
[1] www.nalas.eu
[2] www.ccre.org
[3] www.energy-cities.eu
[4] www.fedre.org/en