Local authorities in the Western Balkan and their vision of a future Europe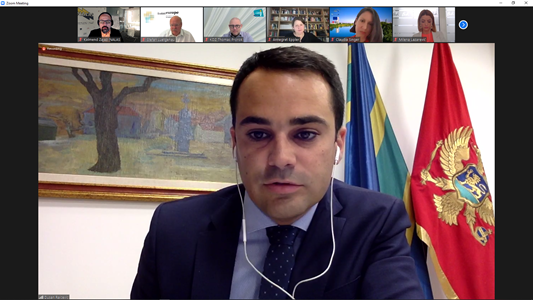 14/06/2021
A vivid Europe from below: Local authorities in the Western Balkan and their vision of a future Europe, was the title of the virtual Conference on the Future of Europe, held on 14th of June 2021.
Mr. Dušan Raičević, Third Vice President of NALAS, Mayor of Bar – Montenegro, participated at this workshop, which aimed to highlight the role of municipalities in European Integration including EU-Macroregional Strategies, discuss the potential of municipalities in the Western Balkan and open a door to communicate the vision and needs of municipalities of the region for a Europe in the near and mid-future.
Mr. Raičević shared that NALAS has been committed since its creation in 2001 to the promotion of local democracy under the auspices of the Stability Pact and the Council of Europe, to contribute to the reconciliation and stabilization process in the region and henceforth subscribes to the process of the European integration of the whole region in a bottom-up approach. 
"Decentralization as a pillar of the democratic reform process is crucial for social cohesion, stability and peace in the Western Balkan countries and for the future of Europe. If Europe wants to be close to its future citizens, then it has to go local. The EU is about people, for people and around people. The location where people live, act, meet and liaise directly with government and public administration is the local level! A functional bottom-up approach depends on an effective coordination and cooperation between local and central government level by actively involving the citizens concerned and by promoting the inclusive partnership principle to be successful." – emphasized Mr. Raičević during his address.
Furthermore, Mr. Raičević added that the experience shows that when it comes to the enlargement process LAs have not been considered as a key layer of governance which they, in fact are, neither as primary beneficiaries. The local authorities have not been properly involved in the planning of the pre-accession assistance, and did not have many opportunities to implement their actions through EU funding mechanisms.
Moreover, "Major global challenges like the COVID pandemic, the refugee/migration crisis and climate change demonstrated, are best addressed collectively at all levels of government. The inclusive partnership principle between all levels of governance is a MUST in order to deal with these complex global issues and to provide an effective and swift response. In this context, the crucial role of LAs to contribute to confront and mitigate causes and effects of these sweeping challenges is crucial. It is here at the local level where the 'Leave no one behind principle' of the 2030 Agenda is adhered to via coordinated and joint action." – highlighted the NALAS Vice President.