Ljubljana is the Top Global Green Destination, 5 other destinations from South East Europe among Top 100!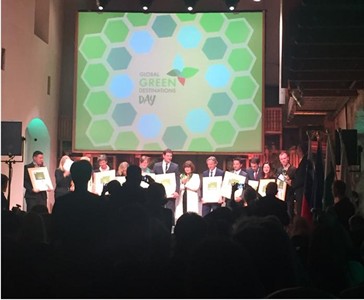 28/09/2016
On the occasion of the World Tourism Day, 27 September, a two-day conference, Global Green Destinations Day (27-28.9.2016) took place in Ljubljana, the capital of Slovenia. The flagship green destinations event brought together leading experts in sustainable development and green tourism, opinion leaders, representatives of destinations, associations, hoteliers and tourist operators who strive for sustainable development in tourism.
The Global Green Destinations Day included awards ceremony for the Top 100 Sustainable Destinations 2016, featuring the most successful sustainable tourism destinations of the world. Ljubljana was pronounced the Top Sustainable Destination in the world, followed by: Drnis, Pula, Mali Losinj, Gorski Kotar, Island Krk, and Delnice.
NALAS and its member LGAs supported this global event by disseminating information and facilitating the applications of the SEE destinations. The SEE destinations that competed for the Top 100 are: Drnis, Pula, Mali Losinj, Gorski Kotar, Island Krk, Trebisce – Perun and Delnice (Croatia), Elena, Sapareva Banja, Pomorie and Samokov (Bulgaria), Teslic (Bosnia and Herzegovina), Skrapar (Albania) and Ljubljana (Slovenia).
The event included a two-day conference covering variety of topics related to the development of the concept of Green Destinations and Sustainable Tourism. Members of the NALAS Sustainable Tourism Task Force participated in the event and contributed to the conference panel on Standards for Sustainable Tourism, where the toolkit Green Destinations SEE was presented and attracted the interest of the audience.
The TF members also participated at Ljubljana green outdoor classroom, which presented the city's green points and the sustainability measures which brought Ljubljana the title of European Green Capital 2016.