Live in Belgrade: Regional workshop on Municipal Infrastructure Asset Management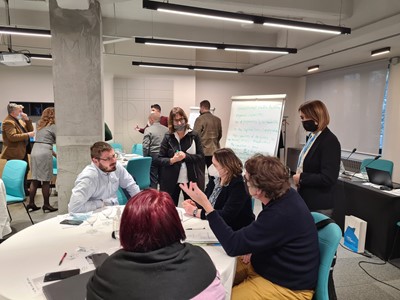 14/12/2021
Discussing the challenges of municipal assets management in South-East Europe and generating ideas for possible solutions for these challenges was the focus of the Workshop on Municipal Infrastructure Asset Management in South-East Europe, organised in Belgrade, Serbia, from 14-17 December 2021, in partnership among UNDESA, UNOPS, UNCDF, GIZ and NALAS.
"This joint initiative is very important for our region, and thus also for our Network. It brings together the global knowledge of the UN Agencies and NALAS' expertise coming from the national Local Government Associations, as knowledge hubs for local governments", said Mr. Kelmend Zajazi, NALAS Executive Director in his opening speech. "Local governments throughout the region face many challenges related to their local assets. We have inherited old public infrastructure and are striving to improve it to improve public services and quality of life. But it is not enough, we also need to better manage the existing assets", said Mr. Zajazi.
The workshop brought together 27 representatives from municipalities and local government associations from 12 economies across South-East Europe, including the City of Sofia, Tirana, Podgorica, Velenje, Lezha, Kocaeli, Kumanovo, Laktasi, Edinet and Colibasi. The purpose of the workshop was to build capacities to enhance the accessibility, resilience, and sustainability of municipal infrastructure assets in support of the Sustainable Development Goals (SDGs).
The workshop offered a lively and collaborative environment in which participants could learn the fundamentals of infrastructure asset management and apply a set of concrete tools to their own local and national contexts. Each day consisted of short live/video lectures, interactive exercises and in-person activities. On-site activities promoted discussions and reflection on previous experiences, weaknesses, opportunities and challenges of integrated asset management in the region. Participants coming from municipalities also developed an Asset Management Action Plan (AMAP) for their local governments.
Participants got the chance to learn more about the two decades long experience of Belgrade Waterworks and Sewerage in managing their assets related to the water and sewage services. "It has not been easy to register the whole water network of the City of Belgrade, long as the distance between Belgrade and New York", said Ms. Maja Medenica, Head of the Belgrade Waterworks and Sewerage Asset Management Hub. "We have used step by step approach, with the support of the top management, involvement of all departments and engaging additional human resources, students in our case, who had a key role in field data capturing and office work. Now, we have a modern system that provides us with real time data on our assets, and enables swift action to solve issues, but also exchange data with other relevant stakeholders".
An important resource was explored during the workshop, the UN publication Managing Infrastructure Assets for Sustainable Development: A Handbook for Local and National Governments, offering an insight to the key asset management principles and concrete tools participants can use in their everyday work.
"Participants learnt how to do an assessment of their municipal assets, as a starting point for developing an action plan and implementing concrete improvements in their municipal asset management practices", said Mr. Boran Ivanoski, NALAS Programme Officer. "In the future, we are looking forward to support more municipalities throughout our region to develop and implement such action plans".