Kudos for the NALAS Knowledge Management Team!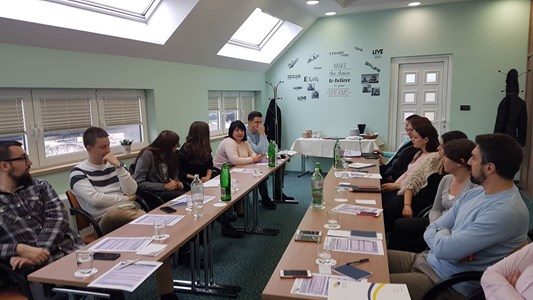 14/02/2019
The annual NALAS Knowledge Management Meeting took place from 13 to 15 February 2019, in Belgrade, Serbia, bringing together NALAS Knowledge Management Assistants from NALAS member Local Government Associations (LGAs).
The first part of the meeting focused on advancing the quality of services and products provided by the NALAS Knowledge Centre for local government development and improving knowledge and information dissemination for the benefit of all member LGAs and their members, the local governments of South-East Europe.
"The recent NALAS Membership Satisfaction Survey revealed a high and increasing degree of satisfaction from NALAS among its members: over 72% of the respondents judge the usefulness of NALAS as "high" or "very high". In their opinion, NALAS' strongest points are: networking, sharing knowledge and lobbying and the possibility to exchange experience and practice", says Jelena Janevska, NALAS Knowledge and Communications Manager. "The most appreciated service is the Quick Response, a unique service provided by NALAS, with a contribution of the NALAS Knowledge Management Assistants. Therefore, we express appreciation for the important work they are doing that significantly contributes to the successes of NALAS and we constantly invest in advancing their individual and team capacities".
The second part of the annual meeting provided a capacity development training on communication, presentation and moderation skills. Participants got contemporary knowledge, skills and tips and tricks on these topics and had the opportunity to practice them and get feedback on their performance. The knowledge gained will be immediately used during the many events scheduled for 2019, to promote the work of NALAS and its member LGAs and advance the role of local government in South-East Europe.
"When it comes to presenting, good preparation is key", highlighted Semra Amet, NALAS Junior Project Officer. "NALAS Knowledge Management Assistants are crucial in disseminating and promoting the work of NALAS, and the demonstrations of their presentations have shown that they possess the skills of excellent presenters".