Investments for Smart Growth: Study-tour on Regional Development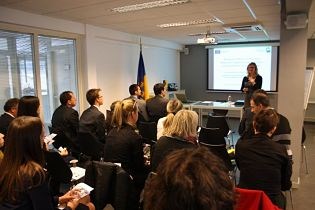 22/05/2013
From 22-24 May 2013, in  , NALAS co-organized a Study Tour on EU Regional Policy and regional economic development. This was the second NALAS activity implemented in cooperation with the Local Administration Facility (LAF), the Technical Assistance and Information Exchange (TAIEX) instrument managed by the Directorate-General Enlargement of the European Commission and the Committee of the Regions.
Some 40 participants, representing municipalities from Western Balkans and Turkey took part in the study tour and learned about the EU institutions and the decision-making process, Cohesion and Regional Policy, EU 2020 Strategy and the activities for developing the SEE 2020 Strategy, IPA funds and Project Cycle Management.
Participants also benefited from the rich experiences of Slovenia, Denmark and Poland in planning and implementing regional development strategies to ensure equitable development and maximize regions' potentials.
"Being here and seeing how Brussels functions has been a new, great experience for all of us. For me personally, case studies and experiences of other regions throughout Europe were of utmost importance and gave us concrete examples and ideas that we can replicate ourselves", said Mr. Jovan Subotic, Deputy Mayor for Regional and International Cooperation, Herceg Novi, Montenegro. "Herceg Novi is city that is part of the Boka Kotorska Region, but also in vicinity to two other countries, which gives plenty of opportunities for regional cooperation. I now see how little we have done in the past to boost regional cooperation and it is now up to me as a Deputy Mayor for Regional and International Cooperation to include as many of our municipal employees to engage more in regional development", concludes Subotic.
The study-tour helped regional and local authorities coming from the Western Balkans to identify ways of improving the existing system of distribution of public funds in accordance with financial allocations for regional development as practiced by the EU Member States. Three interactive workshops were held in small groups, focused on: 1) Implementing Regional/Local Development Strategy: process of identifying and designing key projects; 2) Long-term financial management in public administration – different models of funding projects; and 3) Project Cycle Management – primary set of project design and management tools.
"I would like to emphasize the third day of the study-tour. During the first two days we learned a lot about regional development, while during the third day we had the chance to practice development and implementation of real-life regional projects. We have already applied for a joint IPA project with the Macedonian Municipality of Brvenica, and we are looking forward for many other projects to come", said Mr. Valter Miza, Mayor of the Municipality of Bilisht, Albania.  
Within the study-tour, a visit to the Liaison Office of the State Government of Lower Austria was conducted, where participants were introduced to how local/regional offices in Brussels function and how they influence key policies that affect the local and regional authorities.
Participants had the chance to present their countries and the situation related to regional development in their respective countries, including legal framework, strategies and their implementation in practice. The study-tour was a great opportunity to learn from each others experiences, establish cooperation and network with each other.
For the delegation from Turkey, this was the first participation in an event organized by LAF. "For me, this study tour has been useful for two main reasons: first, I now understand the Balkans better and how to cooperate with them and second, I have established contacts with colleagues from different countries and I see them as our future partners for EU projects", concluded Mr. Inan Izci, a Consultant in the EU&Foreign Affairs Unit in the Municipality of Sariyer, Istanbul, Turkey.
At the end of the study-tour, NALAS presented follow-up steps that will ensure wider dissemination of the knowledge gained from the study-tour. These activities, implemented within the NALAS Knowledge Centre, will include: dissemination of the information about the event, its impact and materials through: NALAS website, Digest, Newsletter, Knowledge Tree, the network of NALAS Knowledge Management Assistants and presentation and discussion at the meetings of NALAS Task Forces.
Until the end of 2013, NALAS and LAF will organize two more joint events.
To download all training materials, please click HERE