Implementing, Monitoring and Reporting of Agenda 2030 and SDGs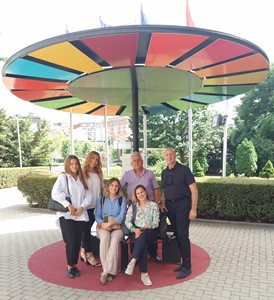 15/07/2021
The SoRi SFF coordination team, together with project partners from Kosovo*, met yesterday with the chair of the Council of Sustainable Development of the Assembly of the Republic of Kosovo, Ms. Fatmire Mulhaxha Kollcaku, to brief her on the activities implemented within the frame of the project and on potential support to the work of the Council.
The SFF project "Regional Learning for Implementation of Agenda 2030 in the Western Balkans (with particular focus on North Macedonia and Kosovo)", is a regional GIZ activity implemented together its strategic regional partner NALAS and its Local Government Association members ZELS and AKM with support from local NGOs and builds up to the long-term commitment of the German development cooperation in the region. Its overall objective aims to improve the conditions for the implementation of Agenda 2030 and reporting to the Western Balkans through regional exchange, networking and learning.
The exchange with the chair of the Council of Sustainable Development of Kosovo corresponds to one of the projects' outputs dedicated to support the SDGs coordination bodies in North Macedonia and Kosovo in their efforts to prepare Voluntary National Reports (VNRs) by providing analytical reports summarising results from the Thematic Groups ''Localization of SDGs'' in both beneficiary countries.
In this context, this first contact meeting focused on potential support measures the project can provide for the Council of Sustainable Development in its re-starting phase. A number of proposals were discussed to be further elaborated and to be prioritized in a follow-up meeting to be scheduled in September this year.
The participants to this meeting were: Ms. Fatmire Mulhaxha Kollcaku (chair of the Council), Natalija Spasovska (GIZ North Macedonia), Ekrem Hyseni (GIZ-Kosovo), Nergis Gjinolli (AKM-Kosovo), Donikë Beqiri (INDEP-Kosovo), Zana Shehi and Joachim Roth (NALAS Secretariat)
* This designation is without prejudice to positions on status, and is in line with UNSCR 1244 and the ICJ Opinion on the Kosovo declaration of independence.