How to ensure Inclusive Disaster Risk Management and "Leave No One Behind"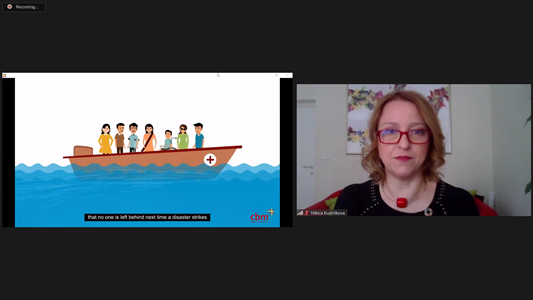 18/03/2021
The series of webinars organised within the NALAS project "Enhancing local capacities to implement the 2030 Agenda and the Leave No One Behind Principle", was concluded today, on March 18 2021, by addressing Inclusive Disaster Risk Management.
Inclusive Disaster Risk Management approach which includes emergency responses to vulnerable groups is founded on the human rights-based approach and the "Leave No One Behind" principle. It seeks equal opportunities for all, involving respective sections of the population in realizing their rights and equal access to public services.
Hosted by the Association for Local Autonomy and the Albanian Association of Municipalities, the webinar brought together over 170 local government representatives, experts and practitioners who exchanged on how to include vulnerable groups in preparation of disaster risk management strategies and Good practices of Inclusive Disaster Risk Management at local level.
Mr. Vasko Popovski, an expert on DRM presented about the Community Based Disaster Risk Management, and the local actions that should be taken in prevention, response and recovery from disasters.  Mr. Popovski also highlighted that the greatest impacts of disasters are felt at local level, and they disproportionately affect Women, children, the elderly, and other vulnerable groups.
Ms. Eleana Jupaj, spoke about the challenges that the Municipality of Tirana faces in risk management, especially in landslides that occur. Ms. Jakupaj shared that Disaster risk management is a discipline that requires risk assessment of many levels: physical, economic, social and institutional. She further added that while it's impossible to prevent natural disasters from occurring, it is possible to mitigate the effects with an Action plan that uses effectively available resources.
Mr. Zdravko Maksimovic, Head of the Civil Protection Department at the Municipality of Kraljevo, offered an insight of the activities that the Municipality undertakes on Disaster prevention and civil protection. Mr. Maksimovic said that representatives of vulnerable groups of Kraljevo have taken an active role in building a system for civil protection.  Due to frequent experiences with natural disasters such as floods and earthquakes, an awareness of the need for organization has been developed among residents of Kraljevo, hence a Network of Commissioners of Civil Protection has been established, shared Mr. Maksimovic.
As history has demonstrated in this series of webinars on social approaches moderated by Ms. Nikica Kusinikova, participants yet again proved their active engagement during the webinar, sharing not only their questions and ideas, but also their good practices.
The concluding words were delivered by Mr. Boran Ivanoski, NALAS Programme Officer, who informed participants on the next steps and scaling up of the social approaches that were the thematic themes of the webinars as well as the e-learning courses that will become available on NALAS e-Academy.
Materials from the webinar
AGENDA IDRM Webinar 18.03.2021 – final
Inclusive DRM – Presentation Mr. Vasko Popovski
Presentation DRM – Tirana Ms Eleana Jupaj
Presntation DRM – Kraljevo Mr Zdravko Maksimovic
WEBINAR flyer IDRM ENG FINAL
Video recording
This webinar is activity of the NALAS project "Enhancing local capacities to implement the 2030 Agenda and the Leave No One Behind Principle", implemented by the associations of local authorities from the Western Balkans in cooperation with and supported by the regional project on "Social Rights for Vulnerable Groups". The regional project is implemented by the Deutsche Gesellschaft für Internationale Zusammenarbeit (GIZ) on behalf of the Federal Ministry for Economic Cooperation and Development (BMZ).