FORUM OF EaP LOCAL LEADERS: LOCALISING SUSTAINABLE DEVELOPMENT GOALS IN LITHUANIA, GEORGIA, MOLDOVA AND UKRAINE.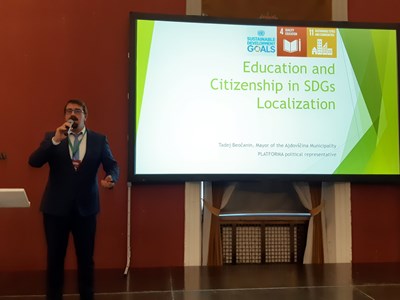 28/10/2019
On 24-25 October 2019, The Forum of EaP Local Leaders was organized by the Association of Local Authorities of Lithuania (ALAL), Ministry of Foreign Affairs of Lithuania and PLATFORMA in Vilnius, Lithuania. 
These Forums aim at strengthening the cooperation between European Union and Eastern Partnership countries.
During the event, representatives of European Commission, European municipalities, national institutions and other stakeholders presented the main priorities, results and future challenges of sustainable development, as well as, financial funds and programmes and practical experience.
The key message of this forum was that local authorities play a key role in delivering the Sustainable Development Goals (SDGs) and that the various studies show that about 70% of the results are achieved by local authorities. Municipalities are the place where sustainable development policy is transferred to real action and tangible results for citizens.
Mr. Tadej Beočanin, Mayor of City of Ajdovščina, as NALAS representative, presented about SDG 11 "Sustainable Cities and Communities" where he emphasized the focus on the society, education and civic participation through establishing partnerships with NGOs to achieve sustainable development.