"EU for Municipalities" project officially begins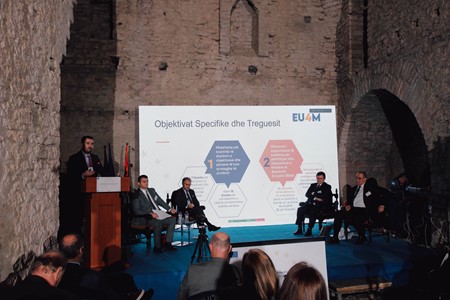 18/10/2021
Three new projects funded by European Union "Municipalities for Europe 2.0", "EU for Municipalities" and "STAR3" have started their work to strengthen and support Albanian municipalities towards the European integration process. The projects were launched during the conference "Albanian Municipalities and the EU Integration Process, held in Gjirokastra with the presence of the EU Ambassador to Albania, Luigi Soreca.
During his speech, Ambassador Luigi Soreca mention that the role of the local government is essential for the success of Albania in EU integration. Also, he emphasized the new project "EU for Municipalities", a direct grant scheme for 61 municipalities that comes as part of the EU's good governance program.
"Our newest program 'EU for Municipalities' program is a direct grant scheme … All municipalities will be able to apply and we will have a call for the grant every six months. The first call for grants will be in November for grants up to 200,000 euros. The grants will support local public infrastructure and services, local economic development, innovation, labor market, environmental protection, and youth empowerment. We expect that through a competitive process, about a third of Albanian municipalities will benefit from these grants funded by the EU", declared the EU Ambassador to Albania.
The event was attended by the Deputy Minister of Interior, Andi Mahile, the Chief Negotiator of Albania, Zef Mazi, and the Mayor of Gjirokastra, Flamur Golemi, which in their speech focused on the importance of local government for the EU integration process.
Further, the leaders of the three projects presented the objectives and expected results from these projects. Elton Stafa, from the project "EU for Municipalities", said that the aim of this project is the direct support of local government for the implementation of their objectives and strategic plans of local development.
"The priority of the 'EU for Municipalities' project is through the grant scheme to contribute in promoting and supporting sustainable and inclusive local economic development; rehabilitation and modernization of local infrastructure and public services; protection of the environment and management of climate change at the local level as well as in the promotion of youth, culture, and sports in local communities", said Stafa.
With the launching of three projects, the European Union will strongly support Albanian municipalities towards improving public services, decentralization, and economic development at the local level.
For more information about the "EU for Municipalities" project, implemented by a consortium led by NALAS, please check project website: https://eu4municipalities.al