Communities need to unite to implement the "Leave no one behind" principle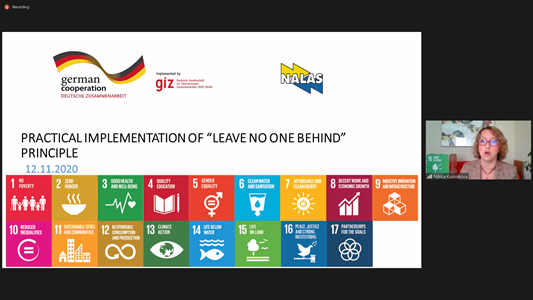 17/11/2020
The practical implementation of the "Leave no one behind" principle of the 2030 Agenda at local level was the topics of the webinar organised by NALAS on 12 November 2020, as part of the GIZ project "Enhancing local capacities to implement the 2030 Agenda and the Leave No One Behind Principle".
Representatives of NALAS member LGAs learnt and exchanged on the meaning of the "Leave no one behind" (LNOB) principle and its importance at local level, along with different approaches in the implementation of the principle and the role that Local Government Associations can play.
"The global leaders recognise that although in the last 20-30 years a huge progress has been made in eradicating poverty and increasing wealth, this was not spread equally and inequalities are still rising. Not only that it is not fair and infringes the rights of people, but also impedes the overall development. We really need to bring everyone on board, which is why this 'Leave no one behind' principle was adopted", said in the opening session Ms. Nikica Kusinikova, Regional Expert.
Ms. Kusinikova elaborated how the inclusiveness, as the main component of the LNOB principle is enshrined in many of the Sustainable Development Goals (SDGs), such as SDGs 4, 8, 9, 11 and 16 and discussed five key factors for being left behind: geography, socio-economic status, discrimination, governance and shocks and fragility. "When you look at all these factors, analyse them and see why people are left behind, then you are able to design measures that can address the issue on several levels. For example, when talk about employment it is not only about getting a job but it is also about getting a good quality job, support with the household, taking care of the children, etc.", said Ms. Kusinikova.
The implementation of the LNOB principle provides a framework for three key areas of intervention: 1) Examining why people are left behind, 2) Empowering them and 3) Enacting policy reforms to address the drivers that leave people behind across all of the SDGs.
As part of the experience sharing, Ms. Sahiba Srna from "Zemlje Djece" in Bosnia and Herzegovina presented their advocacy and field activities to support children in risk. Ms. Stojne Miteva from "Sky Plus" from North Macedonia presented their work in supporting victims of domestic violence. "The Municipality of Strumica is a positive example of cooperation of the civil society sector with the local government for finding a solution to the problem of domestic violence. We provide help to all the women and their children in danger that address us. None of them deserves to be let down, alone, helpless on the streets", said Ms. Miteva.