"Cities Developing Solutions" in Istanbul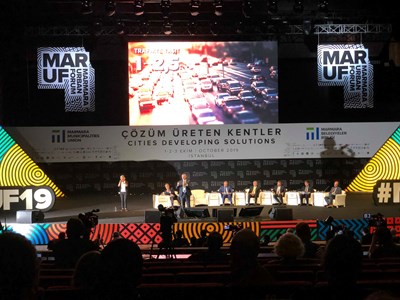 04/10/2019
Marmara Urban Forum (MARUF), organized by the NALAS member, Marmara Municipalities Union took place for the first time in the Istanbul Congress Center on 1-3 October 2019, under the motto of "Cities Developing Solutions".
Gathering 230 speakers from 25 different countries and more than 5000 participants, the forum comprised of panels, parallel sessions, interviews, roundtables, workshops, concerts, exhibitions, competitions and field trips organized over the course of three days.
The Marmara Urban Forum provided a detailed overview of the world of cities with a broad perspective of 12 themes: Environment and Climate Change, Urban Technologies and Innovation, Transport and Mobility, Urban Infrastructure, Housing and Built Environment, Migration, Social Inclusion, Resilience, City Networks, Local Development, Public Space, and Governance.
On the session of "Local Government Associations as a driving force for governance", Mr. Kelmend Zajazi, NALAS Executive Director, who was in the role of a speaker reiterated that "Restoring public trust at the local level via the local governments is the only hope to building better communities".
Within the Forum, NALAS also organized a workshop on the potential role of local governments of Western Balkans 6 in the Berlin Process as well as a meeting of the NALAS Committee of Liaison Officers.