CEMR retreat with partners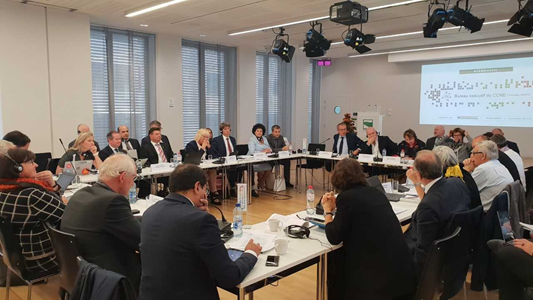 01/10/2018
During the 1st Edition of CEMR's retreat with its partners held on 26-27 September 2018 in Brussels, NALAS participated with President Darko Fras and Executive Director Kelmend Zajazi in the round table "Brexit/neighbourhood/future enlargement" as part of the overarching topic dedicated to "Strengthening partnerships: CEMR and its European and international partners on challenges for the future (mid and long-term perspective)".
Presenting the network structure and its portfolio with emphasis on the work currently underway in preparing the Regional Decentralisation Observatory and ongoing preparations of the new Fiscal Decentralisation Report 2018, NALAS efforts to raise its voice in Brussels regarding the enlargement process were stressed. In this context, the exchange with CEMR's governance unit were highlighted to keep each other informed and updated on statements and recommendations brought to the attention of EU institutions.
One of the major obstacles to enter into a constructive and fruitful exchange with the EU Commission on the important role local governments play in the region to adapt to EU acquis, to prepare for the provision of public services and to prepare the ground for a successful implementation of EU standards, lays within the one-sided dialogue the EU Commission maintains with central governments and line ministries. To face this challenge, both CEMR and NALAS need to joint forces in their advocacy and work together to convince the EU Commission to change their political speech and paradigm focussing on the central government level. Mr. Fras emphasised that only by exploiting to the fullest the genuine potential of the local level with its prospective to foster social cohesion, stability and peace, will help to bring about an EU closer to its future citizen.
It is self-evident that CEMR and NALAS both play a crucial role to get local and regional governments interests and needs to be heard in Brussels and to strive for the recognition of LGAs to be considered as strategic dialogue partners by all EU institutions. The NALAS representatives, in line with CEMR statements on the Future of Europe, left no doubt about the fact that without towns, cities and regions being considered as strategic allies in building a more united, stronger and more democratic Union, fear is justified that the EU, including the present enlargement process, will not be able to mobilise the potential it needs to reinvent itself and to be the aspiration and vision for a life in peace, prosperity and stability so many hope for.
Darko Fras and Kelmend Zajazi expressed NALAS' determination and readiness to strengthen and enhance the existing cooperation and coordination with CEMR, both on policy and technical level, to specify concrete joint project proposals and advocacy activities in the frame of the actual enlargement process for the Western Balkans and the Eastern Neighbourhood Policy.