Call for participants for the e-learning course in "Introduction of Gender Mainstreaming at Local Level"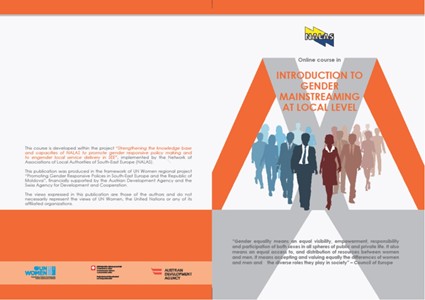 15/01/2018
Interested to learn about the gender issue and its relevance for the individual and the society? How does our gender identity influence opportunities and obstacles in the society regardless if we are aware of it or not? How local governments shall work for gender equality?
All these and much more will be discussed during the e-learning course in "Introduction of Gender Mainstreaming at Local Level", implemented from 5 February until 2 March 2018 by NALAS e-Academy (http://www.nalas.eu/services/E-academy).
"The course aims to enable participants to act both as individuals, and as representatives of organisations working for gender equality. The course targets decision makers and practitioners, administrative staff at local level and in the LGAs, enabling them to understand gender issues and become the change drivers in their organisations and municipalities", says Jelena Janevska, NALAS Knowledge Manager.
Check out our Infographic to see why this course is that important:
Gender Infographic
The course has 4 modules and will be delivered during 4 weeks (5 February until 2 March 2018). Each module includes learning material and bibliography, quiz and forum where participants can share information, ask questions and discuss about the given topics.
Module 1: Gender Equality at Local Level
Module 2: Gender Responsive Budgeting at Local Level
Module 3: Local Government Associations as Promoters of Gender Equality at Local Level
Module 4: Best Practices in Promoting Gender Equality at Local Level
The course will start with an introductory webinar on 5 February and it will be facilitated by a Gender expert. The course is in English, free of charge and participants will receive certificates after successfully completing it.
Participants from seven countries that already completed the course expressed huge satisfaction with their learning experience, recommending it to their colleagues:
100% of participants said that they have achieved the learning objectives of the course
100% of participants believe that the course has practical value in their lives
100% of participants stated that they would recommend this course to their colleagues
Read more about participants' reflections from the course:
"The whole course is conceived in the way that every module is equally important"
"All topics were interesting and important. The Gender Responsive Budgeting topic is central and most current at this time, and all the other topics discussed in this course are supported"
"I will use most of my knowledge, websites, documents available on sites I did not know and examples of good practice. I think that everything was of great value"
"This was a very good course with a short but useful training video to start each module"
"It was my pleasure to participate in this e-course"
"Thank you for helping me to expand my knowledge about gender equality"
"Thank you for your efforts and I really hope to have opportunity to participate on another useful e-learnings like this one!"
If you are interested to take part in the course, please express your interest by contacting the national Association of local authorities (NALAS member) in your respective country (http://www.nalas.eu/Members) by 29 January 2018.
For more information about the course, please see the course brochure and video:
Brochure Gender Course
This course is supported by the UN Women regional project "Promoting Gender Responsive Polices in South-East Europe and the Republic of Moldova", financially supported by the Austrian Development Agency and the Swiss Agency for Development and Cooperation.