Annual meeting of NALAS Knowledge Management Assistants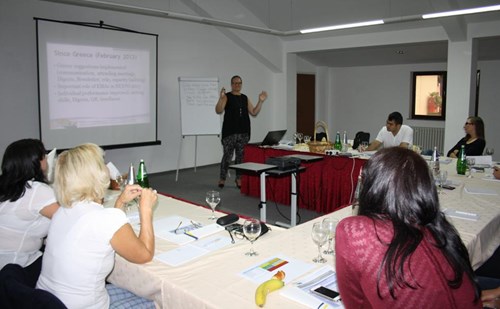 10/09/2014
he group of 14 national NALAS Knowledge Management Assistants met on 10 and 11 September 2014 in Donja Stubica in Croatia at their annual meeting to discuss key challenges in their work and further strengthen their capacities.
"NALAS Knowledge Management Assistants have an important role in the NALAS Knowledge Management System, being in charge of knowledge generation and dissemination at national level, but also supporting all NALAS activities in the countries of South-East Europe", says Jelena Janevska, NALAS Knowledge Manager. "Therefore, it is really important to emphasize this role and make sure we all perform better for the benefit of local governments in our region", concludes Ms. Janevska.
At the meeting, participants discussed NALAS strategic plan and ongoing activities, from the perspective of knowledge management, discussed their detailed tasks and responsibilities and learned how to improve their work that will contribute to providing better services for NALAS member Local Government Associations and their members, the local governments.
The annual meeting also included two workshops in knowledge management for behaviour change and knowledge management tools and results based management. Team building exercises during the annual meeting boosted team cohesion and strengthened the communication within the team of NALAS Knowledge Management Assistants.