Agenda 2030 in my municipality: a handbook for practitioners for localising the Sustainable Development Goals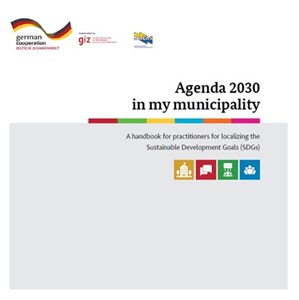 14/03/2019
In 2015, UN member states adopted the 2030 Agenda for Sustainable Development and its Sustainable Development Goals (SDGs) and implementation principles, which represent the vision for the world that we should strive to become by 2030.
These 17 goals with 169 targets cover a wide array of sectoral policies. Local and regional governments played an important role in influencing the definition of the SDGs, successfully campaigning for a stand-alone goal on Sustainable Cities and Human Settlements (SDG 11), and for international recognition of the pivotal role of local and regional government in sustainable development.
As the Sustainable Development Goals of the 2030 Agenda must be achieved at global, national and subnational levels, the success of this ambitious agenda is dependent on the active involvement of every level of government and of a large variety of stakeholders. The framework of the SDGs with its universal definition of goals and targets has to be adapted to concrete situations and specific needs to create actual benefits for concrete people and their living conditions. This process of taking into account subnational contexts in the achievement of the 2030 Agenda, is what we understand by "Localising the SDGs".
Localisation relates both to how the SDGs can provide a framework for local development policy and to how local and regional governments can support the achievement of the SDGs through action from the bottom up. In this respect the capacities of municipal structures to implement the 2030 Agenda and monitor the achievement of SDGs on local level and the involvement of public, private and civil society actors are crucial.
This Handbook has been designed to serve exactly this purpose. To help practitioners at municipal level in improving their knowledge and strengthening their understanding of the relevance of the 2030 agenda and the SDGs at local level, to raise their capacities to become promoters of the SDGs and to be able to sensitise other stakeholders.
The Handbook provides the key information about the SDGs, explains the role of municipalities in their implementation and explores awareness raising tools that municipalities could use to bring SDGs closer to their citizens. The Handbook also provides for a variety of examples from the region and beyond that illustrate what municipalities have done to promote SDGs and how this affected their wellbeing.
The Handbook also provides an advice on integrating SDGs in local strategies and explores the role that LGAs and NALAS play in mobilising municipalities to achieve SDGs.
Download the Handbook:
Agenda 2030 in my municipality
Agenda 2030 in my municipality_ ALB
Agenda 2030 in my municipality_ SRB