A portfolio of five excellent trainings offered to the SEE water sector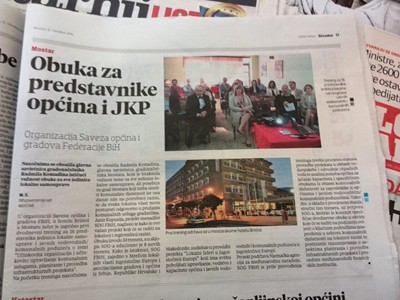 08/06/2016
Over 130 representatives of Local Governments and Public Utility Companies from Croatia, Serbia, Bosnia and Herzegovina and Macedonia were the first ones to receive one of NALAS trainings that contribute to better management of water and waste water services, developed within the project Local Leaders South East Europe: Lead for Change.
Participants have expressed a great satisfaction with the trainings, evaluating them with an average point mark of 5.6, out of 6 and stating that they greatly contributed to enhancing their competences in managing communal services and preparation and implementation of investment projects.
This came as a result of year-long efforts of NALAS, member LGAs and GIZ to design a regional and national training delivery system that will meet the needs of the target group and bridge the gap identified in the training delivery for the water sector.
The process started with a comprehensive Training Needs Assessment, after which a Regional Training Delivery Scheme was elaborated considering priority needs of LL SEE target groups as well as minimum standards for high quality training delivery. A systemic training package for leaders and managers has been developed, comprised of five specific modules:
Efficient organization and effective management of communal services,
Preparations for infrastructure investment projects,
Development of infrastructure investment projects,
Implementation of infrastructure investment projects, and
Results-based strategic program planning and management.
The project has developed a Trainers Pool consisted of 33 Trainers who are now able, in partnership with the involved LGAs, to carry out a wide range of training activities on country level.
In the near future, the plan is that LL SEE is scaled-up and the trainings are also offered to International Finance Institutions (IFIs) and international development partners.